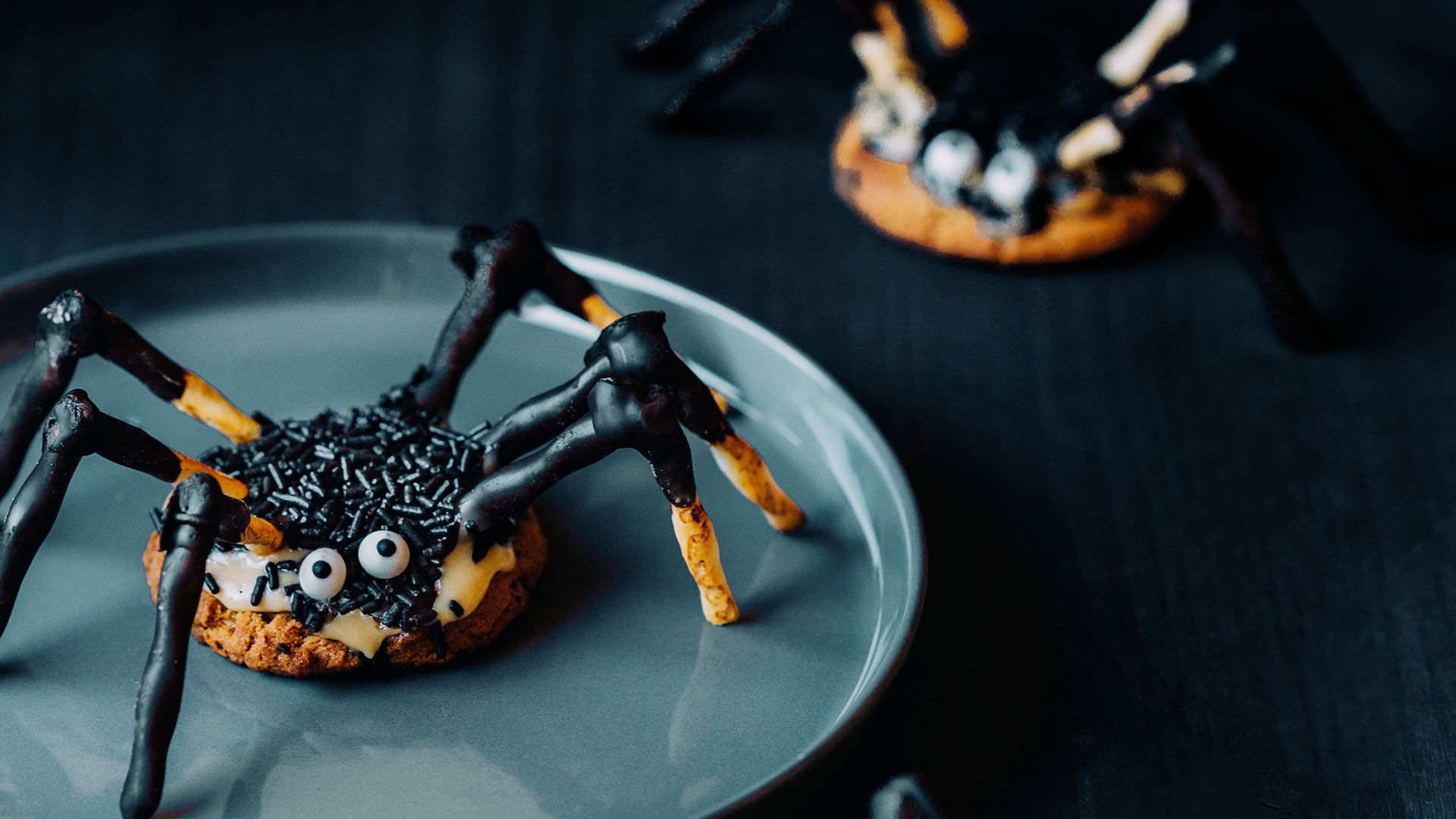 Frozen

Recipe

Dessert

Halloween

Gluten free

Desserts
Description
We know most of you probably have already run away in the same instant you have just seen those crunchy little legs. For the brave ones that are still reading this, below you can find these spooky tarantula cookies recipe.
Ingredients
Servings for 10
1 Teaspoon of baking soda
1 Teaspoon of vanilla extract
Preparation
1
To make the cookies, mix sugar, salt, and margarine in a bowl. Pour the vegetable drink and vanilla extract.
2
Add the sifted flour, previously mixed with baking soda, and blend.
3
When we have a smooth mix, add chocolate chips and stir softly. Put in the refrigerator for one hour.
4
After this time, shape small balls of similar size, place them in a greased oven tray or cover with parchment paper, and bake at 180° C for 12-15 minutes. Pre-heat the oven first.
5
Take them out of the oven and, due that they will be tender, use a toothpick to carefully make six holes in each cookie, without breaking them, and let them cool.
6
To assemble the tarantula cookies, spread peanut butter in each cookie and place them in the cooler for 10 minutes to harden a bit.
7
Shape small legs as you wish, with sticks or pretzels, sticking them with dark chocolate.
8
Remove the cookies from the cooler, place the legs over the peanut butter inside each hole, and decorate the top with chocolate chips. Last, we place the edible eyes.
Chef's tip
You can play to put them different eyes and stick the small legs in many ways to create more realistic and spooky tarantulas.
Puedes jugar a ponerles diferentes ojos y colocar las patas de muchas formas para hacer tus tarántulas más realistas y espeluznantes.
Complements
Match your recipe with the best movies and rhythm
I want to subscribe to the newsletter and
find out all the news
Rate the recipe!
Community assessment
The vote was successful