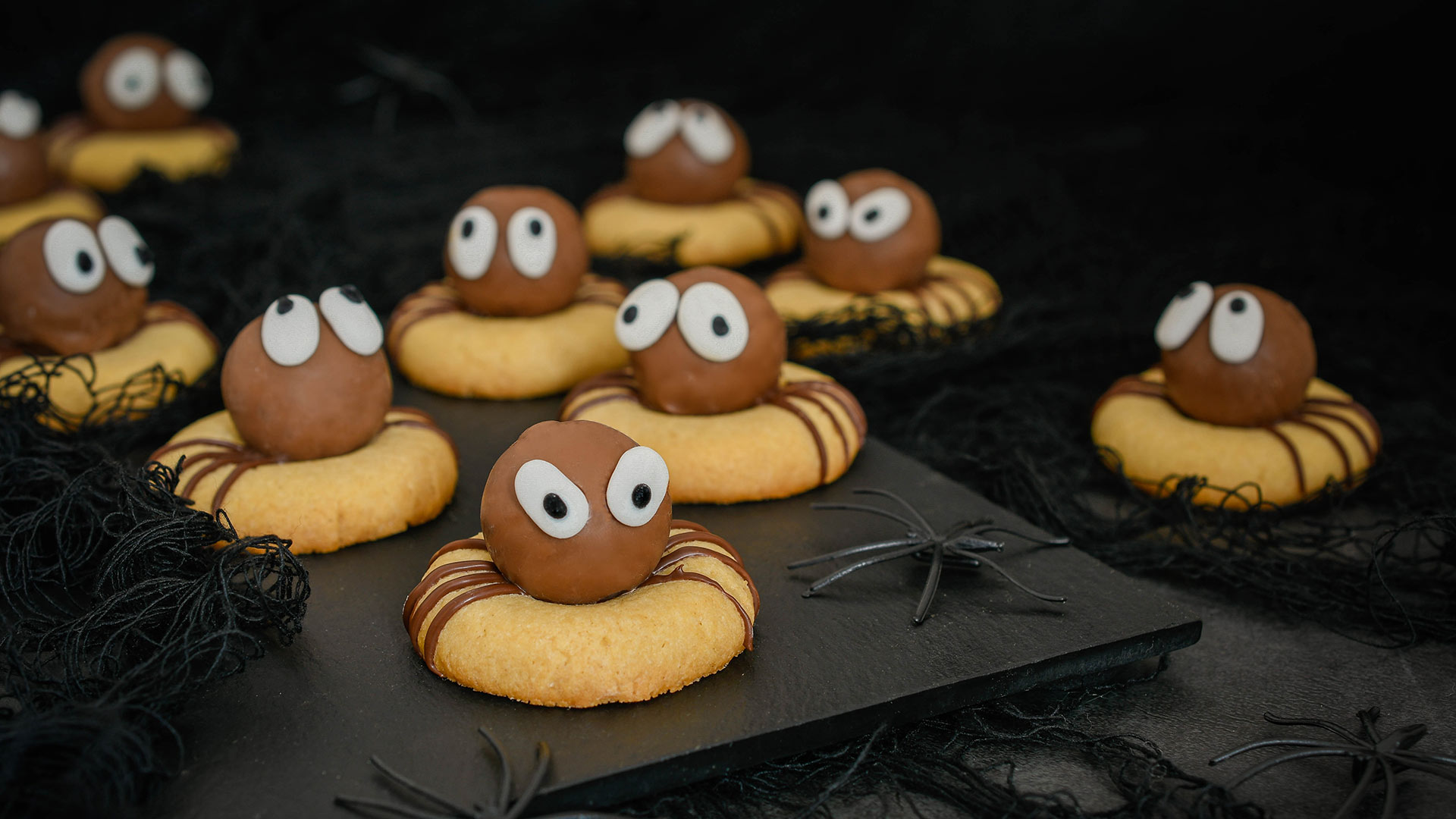 Frozen

Recipe

Dessert

Halloween

Desserts
Description
Don't scream and put your shoe again where it was: these harmless spiders will cause you no pain. They will just make your Halloween party sweeter and will create one or two funny moments.
Ingredients
Servings for 20
Very cold unsalted butter
125 g
20 Milk chocolates spheres
Milk chocolate for desserts
80 g
Preparation
1
Dice the butter and mix with flour, salt, sugar, and the egg, until you have a soft and uniform dough.
2
Wrap with cling film and place in the refrigerator for 30 minutes.
3
Grab small pieces of dough of about 20 gr, shape them into small balls, and put them on oven trays with parchment paper. Leave some space between them.
4
Flat them with your hand to shape the balls like thick disks and, with a finger, make small holes in the centre.
5
Bake in the oven, previously preheated to 180° C, heat above and below, for 10 minutes.
6
Remove the trays from the oven and remake the holes (the chocolate spheres will be inside, so the hole has to be big enough).
7
Place in the oven again and bake for 7 or 8 more minutes.
8
Let the cookies cool before decorating.
9
Melt the milk chocolate for deserts and pour it into a piping bag with a round, small tip.
10
Draw eight legs in each cookie and use the chocolate sphere in the ole to stick them. Do the same with the eyes.
11
Wait a few minutes until chocolate hardens before serving.
Chef's tip
Wait a few minutes until chocolate hardens before serving.
Complements
Match your recipe with the best movies and rhythm
I want to subscribe to the newsletter and
find out all the news
Rate the recipe!
Community assessment
The vote was successful