Oven

Video recipe

Vegetables

Gluten free

Main dishes
Description
We have cooked this awesome polenta with vegetables recipe in just 30 minutes. It's easy, healthy, tasty, and quick. It may sounds bad, but we do think it is close to being perfect.
Ingredients
Servings for 1
Bell peppers with different colours
3
Preparation
1
For the polenta (if not pre-cooked): bring water to a boil and add a bunch of salt. Add the polenta gradually, stirring with a spoon.
2
Cook and stir from time to time until the polenta is creamy. It will take around 35 minutes.
3
Add milk, grated parmesan, salt and pepper. Cook for a few more minutes until the polenta absorbs the milk and it is thick and smooth.
4
For the vegetables, wash and cut them into similar chunks. Place all of them in a bowl and sprinkle with a dash of olive oil. Add salt, thyme, oregano, rosemary, and garlic. Toss well and place on an oven tray.
5
Bake at 180°C for 20–30 minutes. Stir to cook all the veggies evenly.
Chef's tip
Serve with the polenta at the bottom of a soup dish and the vegetables on top.
Complements
Match your recipe with the best movies and rhythm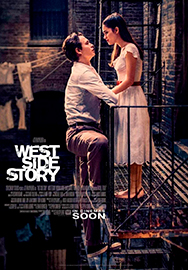 West Side Story
2021
Musical
I want to subscribe to the newsletter and
find out all the news
Rate the recipe!
Community assessment
The vote was successful