Video recipe

Rice

Italian

Main dishes
Description
This black risotto is a slow-cooking recipe made on the exclusive Infinity G1 induction hob, and both share their Italian roots and its unforgettable design thanks to the black colour of the soft rice garnish with copper details.
Ingredients
Servings for 2
Edible copper-look pieces
Preparation
1
Heat the stock on one side and brown the squid on the other in a pan over high heat. Chop and set aside.
2
In a large pan, stir-fry the chopped onion and garlic. When the onion is translucent, add the wine and the squid ink, and reduce until the alcohol evaporates.
3
Then, incorporate the rice, toss well to combine with the ink, and cook for a minute. Add three ladles of stock and toss. Add the rest of the stock little by little and stir the rice from time to time until cooked, it will take around 15 minutes.
4
After ten minutes, combine it with the chopped squid and keep cooking it for the rest of the five minutes. Add some butter and Parmesan cheese.
Chef's tip
Plate the rice with a mousse ring and garnish with a square of edible copper.
Complements
Match your recipe with the best movies and rhythm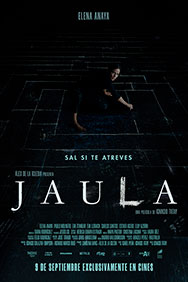 Jaula: the chalkboard house
2022
Horror
I want to subscribe to the newsletter and
find out all the news
Rate the recipe!
Community assessment
The vote was successful