Video recipe

Dessert

Desserts
Description
Creating an unforgettable recipe from an easy recipe is now possible if we find the right design and finish. And we did. Enjoy this black magnum ice cream inspired by the lines of our Infinity G1 appliance edition.
Ingredients
Servings for 5
Teaspoons vanilla extract
2
Dark chocolate coating
400 g
Fat-soluble food colouring
Chocolate with black food colouring
Cocktail garnish copper balls (edible)
Copper gel-based food colouring
Preparation
1
Whisk heavy cream with a mixer until stiff peaks form. Incorporate the cold condensed milk and the vanilla extract, little by little, and fold gently. Whisk until stiff peaks form again.
2
Pour the mixture into the magnum mould, insert the sticks, and freeze for at least 8 hours.
3
Heat chocolate together with coconut oil in a pan and turn on the "melt" function on the induction hob until both ingredients are mixed. Remove from the heat and colour with black food colouring.
4
Set aside to cool for a minute and pour into a tall, wide glass. Unmould the ice creams, coat them with black chocolate, and freeze them again until hardened.
Chef's tip
To garnish, paint some dark chocolate lines around and use some copper small balls. Paint other just with gel-based food colouring. Set aside to cool and serve.
Complements
Match your recipe with the best movies and rhythm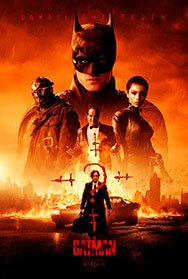 The Batman
2022
Superheroes, people who dressed in black in general, perhaps goths too
I want to subscribe to the newsletter and
find out all the news
Rate the recipe!
Community assessment
The vote was successful