Oven

Recipe

Bread

Vegans

French

Snacks
Description
We have probably just baked the most delicious bite we could make with vegetables, galette dough, and some fresh basil. We are not sure how all this has happened, but it has, and you can find all the details right below.
Ingredients
Servings for 4
Preparation
1
Put the flour in a bowl with the margarine.
2
Knead until the dough is soft and firm.
3
Then, add water and salt. Keep kneading with soft movements until well-combined.
4
Shape a ball, place it in a bowl, and let it rest for one hour in the refrigerator.
5
Then, pre-heat the oven to 200 °C.
6
Place the dough on a floured surface, and flatten it with a rolling pin into a thin disc.
7
Cut into 10 cm diameter circles to make individual galettes.
8
Place them on the oven tray lined with parchment paper.
9
Poke the base of the galettes several times with a fork.
10
Add some tomato sauce on top, vegan cheese, courgette slices, tomato, and black olives.
11
Drizzle with olive oil and sprinkle with salt and pepper to taste.
12
Bake for 30 minutes and serve immediately with fresh basil.
Chef's tip
Season the galettes with the rest of the spices.
Complements
Match your recipe with the best movies and rhythm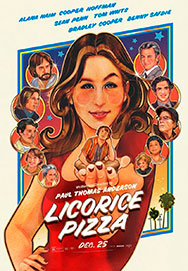 Licorice pizza
2021
Comedy
I want to subscribe to the newsletter and
find out all the news
Rate the recipe!
Community assessment
The vote was successful