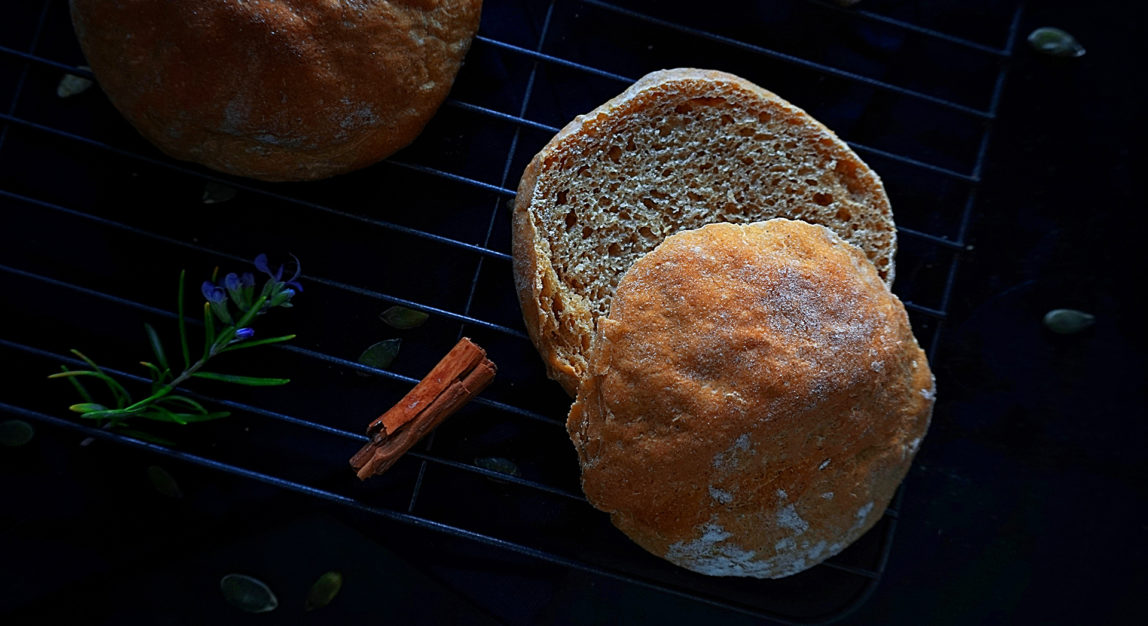 Oven

Bread
Description
Making bread is one of the most relaxing things in the kitchen. Kneading helps us to disconnect and bring us peace and concentration. Also, baking your bread at home will mean choosing the healthiest ingredients for you, especially if you have any food allergy or special needs, for instance, celiac disease.
You will improve your social life too, cause a piece of bread can be a good present for any family member or friend. Do you feel like you need to knead something? Then, here you will find a very easy recipe to bake "molletes", a small, round shape type of bread with a special ingredient this time: pumpkin.
Ingredients
Servings for 5
Fast-action dried yeast
60g
Preparation
1
Dissolve the yeast with 50 g of water and set aside for a few minutes until the mix has foam on the surface. Mix the 75 g of water with 25 g of cornstarch and set aside too.
2
In a bowl, mix flours, sugar, salt, and spices.
3
When the yeast is ready, mix all the dry ingredients together and add oil and pumpkin puree.
4
In the stand mixer bowl, place dry and wet ingredients and knead at medium speed for 10 minutes and increase to high speed for 5 final minutes. We need a well-combined dough, smooth and stretchy.
5
Form a ball and put it in a previously greased large bowl. Let the bowl rest in a warm area for about one hour or until it doubled size. Cover with cling film to prevent the top of the bread from drying out.
6
When the dough has doubled the size, shape the bread. You can make small portions with 90 g of dough, shaping them into round balls, or make long loaves using a loaf mould. Let the dough rest for 45 more minutes before baking.
7
Bake at 190ºC for 30 minutes.
8
You can slice and freeze this bread to use it anytime. It will be ready in the toaster in minutes. You can also add some sesame seeds to the dough for a crunchy touch.
Chef's tip
Use this bread with sweet ingredients or salty sandwiches. Spices and pumpkin's sweet flavour with the smoked salt will add a different aroma to any combination.
Complements
Match your recipe with the best movies and rhythm
I want to subscribe to the newsletter and
find out all the news
Rate the recipe!
Community assessment
The vote was successful