Recipe

Dessert

Desserts
Description
When talking about avocado versatility, we talk about things like this. Avocado for sauces, cold soups, hot meals, sandwiches, realfooding chief… And now, avocado ice cream. Thanks to the recipe, you can enjoy avocado in a three-course meal. By the way, remember that avocado is a fruit, after all.
Ingredients
Servings for 0
Teaspoons of cornstarch
3
Preparation
1
In a saucepan, put together cream, milk, cornstarch, and sugar. Stir well to combine. Heat the mixture over low heat and keep stirring until it thickens. Remove from heat and set aside to cool.
2
When cold, halve the avocados and remove the flesh. Mash the flesh, and combine with lime juice or half lemon juice to prevent rusting, and mix well with the cream. Whisk with an electric hand mixer or a food processor.
3
Place the cream in a food container and cover it with cling film. The film must touch the cream and be tight enough to avoid browning. You can also use a zip plastic bag.
4
Place it in the refrigerator for at least four hours, or overnight for better results.
5
To make the ice cream without an ice cream maker: place the cream in a food container to freeze and place it in the freezer. Churn with a fork or a spatula every 30 minutes to break the ice crystals. Repeat four to five times in four hours.
6
To make the ice cream with an ice cream maker: place the mix for four hours at least in the refrigerator. Then, pour the mix into the ice cream maker, turn it on and let the ice cream become smooth and creamy. It will take around 40 minutes.
Chef's tip
For a real homemade touch, serve with some wafers.
Complements
Match your recipe with the best movies and rhythm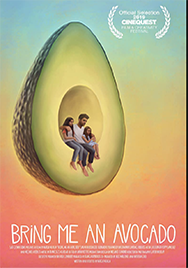 Bring me an avocado
2019
Drama
I want to subscribe to the newsletter and
find out all the news
Rate the recipe!
Community assessment
The vote was successful