Gravlax salmon with beetroot

Raw food

Video recipe

Fish and seafood

Christmas

Main dishes
Description
Here is the first of our recipes for cooking a complete Christmas menu. And like any Christmas dinner, we start with some tasty appetizers. For those of you who opt for simplicity and go for it, take note of this recipe to surprise at the table with some salmon canapés marinated in beet and hollandaise sauce. You will give a touch of colour to your appetizers and succeed with its characteristic flavour.
Ingredients
Servings for 1
Preparation
1
We start marinating the salmon one day before, as it must be macerated in the fridge for at least 24 hours. We mix in a bowl one cup of sugar, two cups of salt, half a cup of pepper and one cup of beet with a little bit of lemon zest. Stir all the ingredients well until they are well combined.
2
When the mixture is ready, spread out half of it in a large bowl and place the salmon loin on top. Cover the salmon with the remaining mixture and let it rest in the fridge for a whole day.
3
After 24 hours, remove the salt and the remaining mixture from the salmon loin. When it is clean, we cut it into thin slices not too big, just enough to cover the roll of your appetizer.
4
To prepare the Hollandaise Sauce, we mix in a bowl two egg yolks, a pinch of salt, pepper and 50gr of melted butter. Put the sauce in the microwave for 15 seconds at 800w and stir in hot water to finish mixing the ingredients.
5
All that remains is to present this delicious appetizer. Prepare several slices of toast and place a strip of marinated salmon on top of each one. Finally, decorate with Hollandaise sauce and, you're done!
Complements
Match your recipe with the best movies and rhythm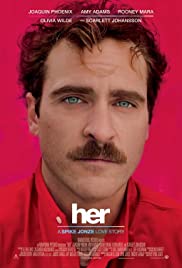 Her
2013
Ciencia Ficción, Drama, Romance
I want to subscribe to the newsletter and
find out all the news
Rate the recipe!
Community assessment
The vote was successful