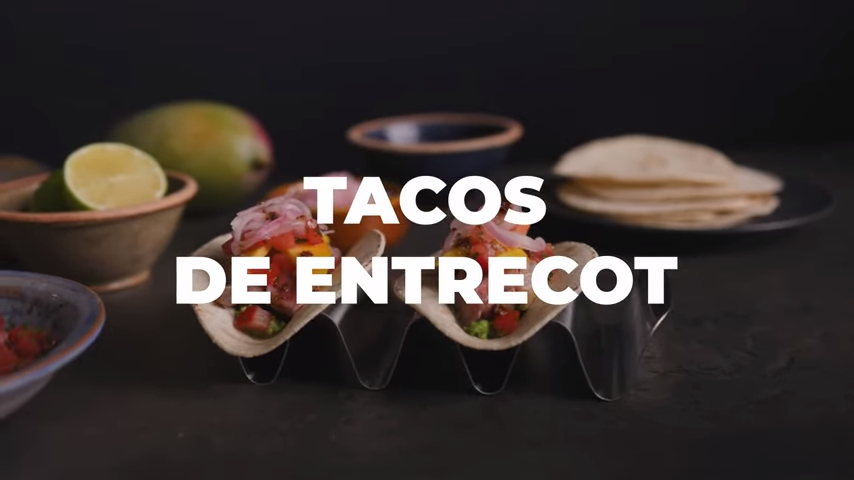 Grill

Recipe

Meats

Mexican

Starters
Description
Today is Taco's night! Turn your SteakMaster on, your barbecue or the grill. Play our Mexican playlist and arrange all the ingredients. Let the party starts!
Ingredients
Servings for 3
Tablespoon of Modena vinegar
1
Tablespoon of rice vinegar
1
Preparation
1
For the entrecote: preheat the SteakMaster oven with the entrecôte function, brush the meat with oil and cook for the set time. Once cooked, season and cut into strips.
2
For the honey-mustard sauce: mix the mustard, honey and balsamic vinegar in a bowl and set aside.
3
For the tacos: dice the tomato into small cubes, chop the coriander, mix the two together and dress with the juice of 1 lime.
4
Warm the pancakes slightly and fill with: a base of mashed avocado, the entrecote, thinly sliced mango, the tomato with coriander and the red onion pickled in lime and rice vinegar.
Chef's tip
Serve with the honey-mustard sauce.
Complements
Match your recipe with the best movies and rhythm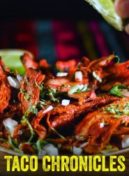 Las crónicas del Taco
2019
Documentary
I want to subscribe to the newsletter and
find out all the news
Rate the recipe!
Community assessment
The vote was successful