A la plancha

Video recipe

Chicken and other birds

Asian

Main dishes
Description
And today, as the main dish, chicken teriyaki right on your teppanyaki. It is an awful rhyme, we know, cause we are better chefs than poets, but the skewers still taste delicious anyway, so go ahead with the recipe.
Ingredients
Servings for 2
Tablespoon of sesame oil
1
The green part of a spring onion
Preparation
1
To cook the chicken: dice the thighs and prepare the skewers.
2
In a bowl, mix the rest of the ingredients and place them in a large food container or similar. Put the skewers inside and marinate for a whole night.
3
To cook the rest of the dish: wash the basmati rice and cook as indicated on the package with salted water, the laminated ginger and half lemon. Strain and set aside.
4
Heat the teppanyaki with a bit of oil and sear the skewers for both sides. Brush them with some sauce and cook again until the chicken is juicy.
Chef's tip
Plate over a bed of rice, put some skewers on the top and decorate with the green part of laminated spring onion, chilis cut into slices too, and with sesame seeds.
Complements
Match your recipe with the best movies and rhythm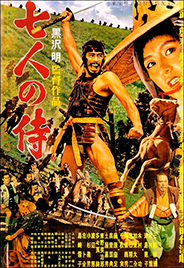 Los siete samuráis
1954
Drama
I want to subscribe to the newsletter and
find out all the news
Rate the recipe!
Community assessment
The vote was successful