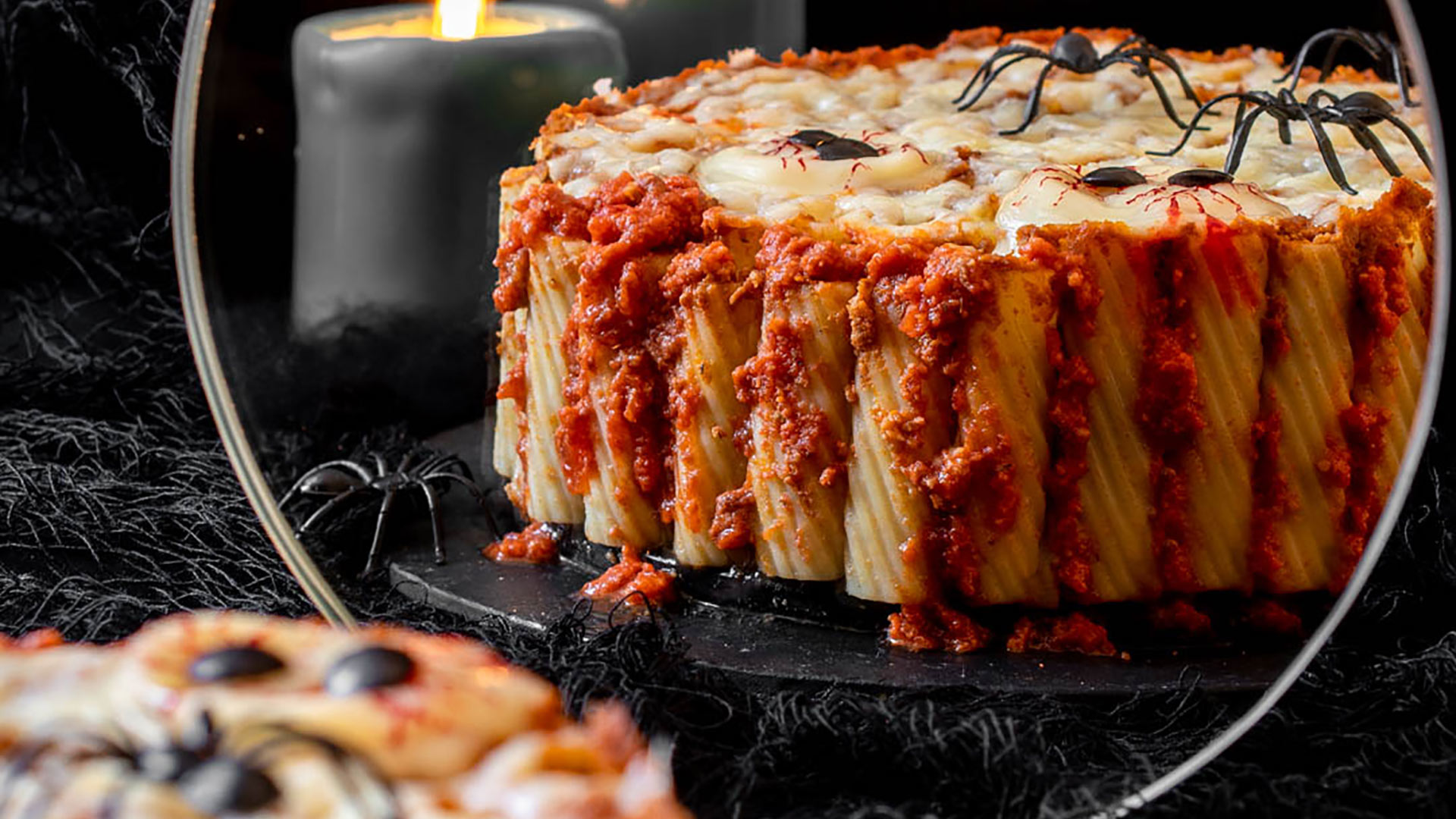 Gratin

Recipe

Pasta

Halloween

Main dishes
Description
If you look at yourself in the mirror and say rigatoni pie three times, your stomach will begin to growl, and you will crave this mouth-watering pie insatiably. Do you dare to cook it this Halloween?
Ingredients
Servings for -1
Garlic cloves, peeled and chopped
2
Onion, peeled and chopped
1
1 Can of chopped tomato
800 g
Grated cheddar cheese
100 g
Preparation
1
Heat a little oil in a saucepan and sauté the garlic and onion for 10 minutes.
2
Add the minced meat and sauté while stirring until it has changed colour.
3
Add the red wine and turn the heat up.
4
When the alcohol has evaporated, add the provençal herbs, the tomato and the beef stock cube. Bring to a boil, then simmer for 75 minutes.
5
Let the bolognese temper and blend it.
6
Boil the rigatoni in salted water for 6 minutes. Drain.
7
Line an 18 cm springform tin with greaseproof paper.
8
Fill with the rigatoni and pour the bolognese sauce over it, little by little, allowing it to penetrate inside the pasta. Cover the entire surface with the grated cheddar, reaching the edges.
9
Cook in the preheated oven, at 180° C with heat up and down, for 10 minutes.
Chef's tip
Serve the cake as is or, if making it for Halloween, decorate the surface with bloody eyes made with cheese, red food colouring (for the veins) and black olives (for the pupils) or decorative spiders.
Complements
Match your recipe with the best movies and rhythm
I want to subscribe to the newsletter and
find out all the news
Rate the recipe!
Community assessment
The vote was successful