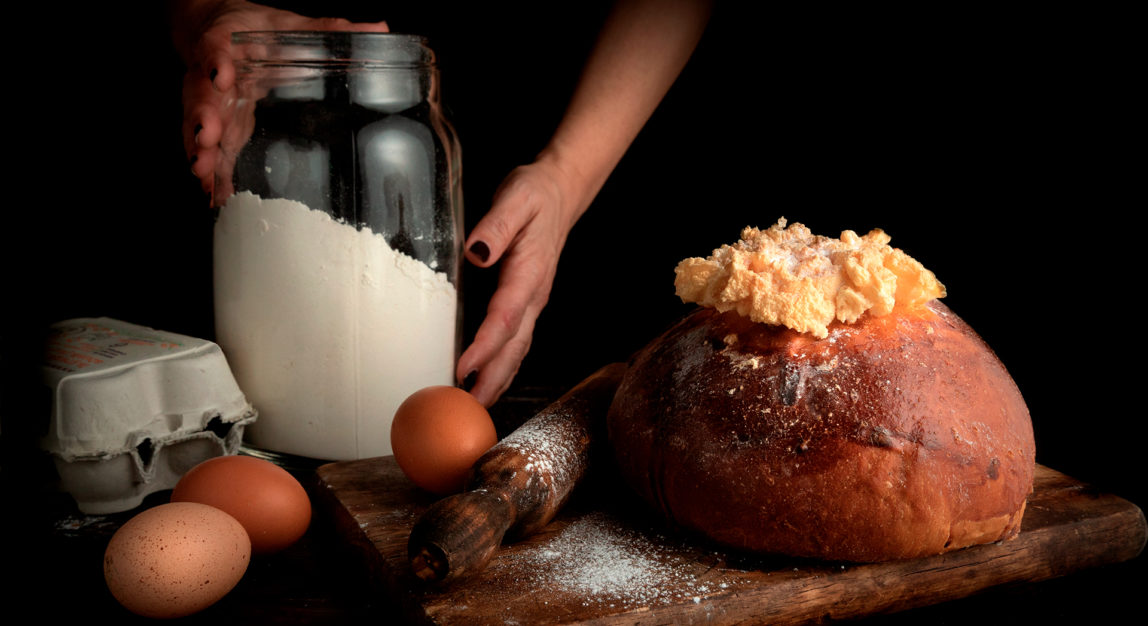 Oven

Recipe

Bread

Breakfast

Spanish

Slide dishes
Description
It's happening again: bread is coming back to our kitchen. During the lockdown, an unprecedented bread culture arises in most homes, and now we can remember why. Because baking your own bread is not only a hobby, it leaves an addictive aroma at home, and a piece of tailor-made moist bread makes us want to do it again and again.
Holy Week is near, so we wanted to bake a traditional recipe for these days: the Panquemao.
Ingredients
Servings for 2
Preparation
1
Dissolve the yeast in the slightly warm milk and add the rest of the ingredients in the bowl where you are going to knead the bread.
2
Knead by hand or machine. It is a long process - keep in mind that with a machine you may need to knead for about 15-20 minutes.
3
Let the dough rest in the covered bowl to ferment. It should double in size. In summer, for this amount of flour and yeast, it may only take a couple of hours to be ready, but remember that in winter it may take a few hours more.
4
When the dough has doubled in size, divide it into two parts. Shape each part into a ball and roll to make them firm and give them a nice shape.
5
Arrange the two buns on a baking sheet lined with baking paper.
6
Let them rest again, well covered with cling film or a cotton tea towel until they double their size once more (this second fermentation will be shorter - between one and two hours).
7
Preheat the oven to 220C with heat both above and below, and place the tray in the middle section of the oven. Put the buns in and bake for 5 minutes.
8
Lower the temperature to 180Cº. Quickly open the oven, brush the buns with the beaten egg, and sprinkle with moistened sugar.
9
Stop baking when they look very golden.
Chef's tip
If you want to decorate the buns with caramull as is typical in Alberique (the home of panquemaos), mix an eggwhite very well with a pinch of salt and place it by hand on top of the buns after brushing them with the other beaten egg.
Complements
Match your recipe with the best movies and rhythm
I want to subscribe to the newsletter and
find out all the news
Rate the recipe!
Community assessment
The vote was successful