Grill

Recipe

Bread

Vegetarian

French

Starters
Description
Right here, fresh from the oven, here is our onion and leek galette. An easy and healthy recipe to cook.
Ingredients
Servings for 2
Unsalted butter, cold
120gr
Tablespoons shredded parmesan cheese
4
Tablespoons Dijon mustard
2
Preparation
1
Dice butter and blend with flour, sugar, and salt.
2
Work the dough with your hands, quickly, before the butter is too soft.
3
Pour water and knead until all the ingredients are well-combined. Shape the dough into a ball. Put in the refrigerator for 30 minutes.
4
Cut the onion into strips and stir fry with garlic in a frying pan with a bit of butter.
5
Place parchment paper under the dough and on the top. Roll it out with a rolling pin and shape it into a 0,5cm thick square.
6
Spread the Dijon mustard all over the dough and sprinkle parmesan cheese and black pepper over it. Add cooked onion and garlic.
7
Trim the rim of the pastry and shape the galette. Stir fry the leek and put it on the top of the galette as well.
8
Bake for 30 or 40 minutes, 180ºC, until it is golden brown.
Chef's tip
You can use blue cheese or another type of cheese with a strong flavour. For a lighter option, add a low-fat cheese.
Complements
Match your recipe with the best movies and rhythm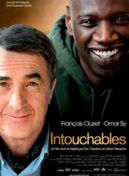 Intocables
2011
Comedia dramática
I want to subscribe to the newsletter and
find out all the news
Rate the recipe!
Community assessment
The vote was successful