Cheese and spinach wreath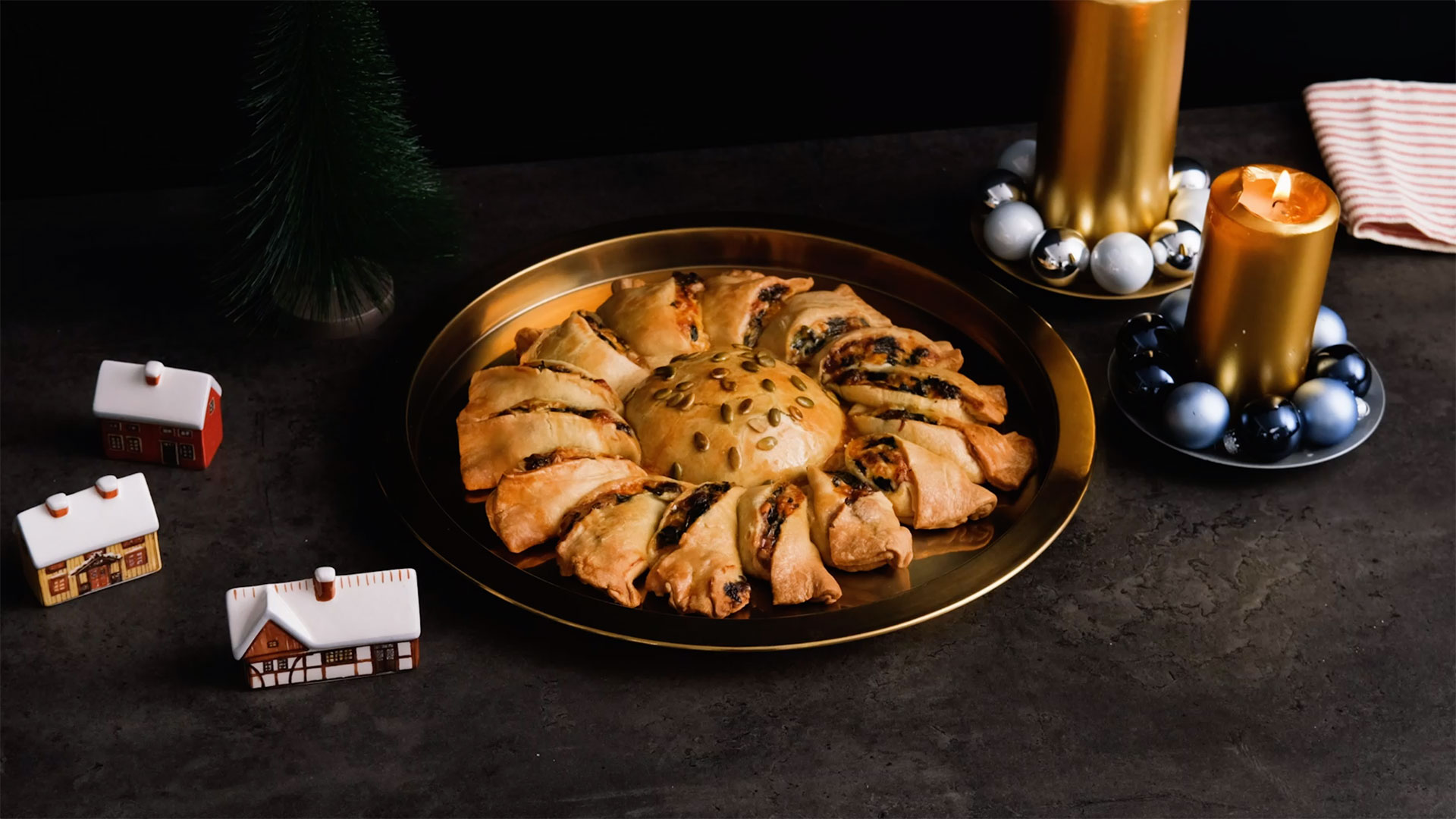 Oven

Recipe

Christmas

Starters
Description
To whet the appetite while waiting for the main course, any Christmas menu starter must be tasty but light and simple. But the most important part about starters is that they are the dishes we choose to begin the spectacle of our Christmas menu on our table, and something like that deserves the best recipes, just like this cheese and spinach wreath.
Ingredients
Servings for 1
Short crust pastry sheets
2
Preparation
1
In a pan with olive oil, stir fry raisins and pine nuts until golden brown.
2
Add spinach, salt and pepper and cook for 5 minutes. Set aside in a bowl and cool.
3
Add cream cheese, egg, and grated cheese and stir until well-combined.
4
Unroll a shortcrust pastry sheet on an oven tray and fill with the mixture, drawing a wreath from the centre of the sheet.
5
Place the other pastry sheet above and seal the edges with a fork. Use a small bowl to shape the centre and decorate with pumpkin seeds.
6
Cut the wreath into small pieces and spin each portion, so you can see the filling from above.
7
Paint with egg and bake at 180ºC for 30 minutes.
Chef's tip
Wait until the filling is cold to assemble your spinach wreath. Make sure the cuts are clean by using a sharp knife.
Complements
Match your recipe with the best movies and rhythm
Love actually
2003
Romantic comedy
I want to subscribe to the newsletter and
find out all the news
Rate the recipe!
Community assessment
The vote was successful