Brownie with spicy and special chocolate sauce

Oven

Recipe

Dessert

Desserts
Description
We really enjoy this recipe because, if you're going to get revenge on somebody, this brownie with spicy sauce is one of the foods that can best disguise your feelings. The secret here is in the sauce, and the amount of chilli or cayenne you want to add. If you add too little, you'll be a hipster, and when you take it to the office to share with your coworkers, you'll look like a chef. If you add cayenne like there is no tomorrow, choose your target to give it to, or you'll leave half your department with an ulcer.
Ingredients
Servings for 2
Fondant chocolate 70% for desserts
120 g
For the spicy and special chocolate brownie:
Chocolate for desserts, half cinnamon stick, half chilli
Preparation
1
Preheat the oven to 200ºC. Spread butter in a 20x20cm mould and sprinkle some flour all over it.
2
Melt the butter and chocolate in a saucepan or in the microwave and stir until well combined. Set aside to cool.
3
In a bowl, mix sugar and eggs, and beat with a whisker, add the sifted flour, and stir again. Pour the melted chocolate and butter and whisk.
4
Pour the mix in the mould and put it in the oven at 180°C for 20 minutes.
5
When the time is over, keep it inside the oven with the door half open for 5 minutes. Then, take it out of the oven. Set aside to cool.
6
Prepare the spicy sauce: heat the water, cream, and sugar and add the chilli with the cinnamon. Let the mix rest for 3 to 4 hours and strain.
7
Heat again the mix, add the dark chocolate cut into chunks, mix with a whisker until it is completely melted. Turn the heat off.
Chef's tip
If you want to enjoy this sauce for no-revenge purposes, just remove the chilly. Serve the brownie with hot chocolate all over it.
Complements
Match your recipe with the best movies and rhythm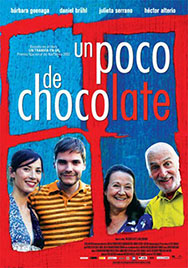 A bit of chocolate
2008
Drama
I want to subscribe to the newsletter and
find out all the news
Rate the recipe!
Community assessment
The vote was successful