Baked fruit salad with caramelised pecans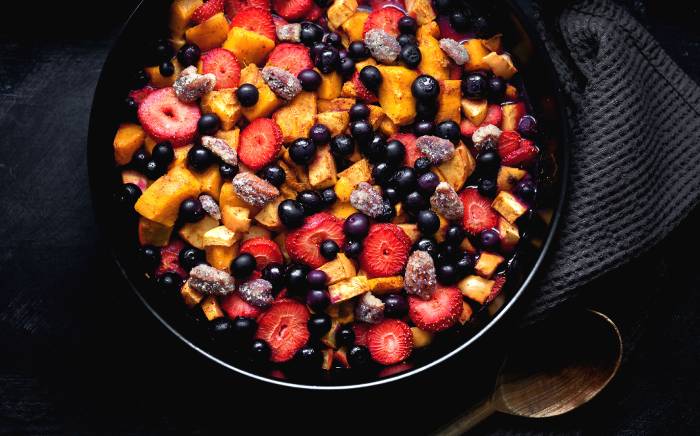 Oven

Recipe

Fruit

Vegans

Desserts
Description
Fruit in the summertime is a lifestyle for many people, and it often becomes the main ingredient for most recipes. Since the oven is usually forgotten until autumn comes back, why not use it just once and bake a delicious fruit salad?

Also, thanks to the Teka App, you can programme it to cook your fruit from a fresh place, like a balcony or even the pool, if you are that lucky.
Ingredients
Servings for 4
Tablespoons of coconut sugar
2
Teaspoon of ground cinnamon
1
Teaspoon of powdered ginger
1
Teaspoon of ground cloves
1/2
For the caramelized pecan nuts:
Preparation
1
Wash and cut the fruit to taste.
2
Spread them on a platter suitable for the oven (except blueberries).
3
Add the orange juice, sugar, and spices.
4
Toss well and bake for 15 minutes at 170 °C.
5
Then, add the blueberries and bake for 7 more minutes. Remove it from the oven and set it aside to cool.
6
For the pecans, put the sugar in a skillet with water over medium heat.
7
Stir until it thickens.
8
Add the nuts and stir until all the liquid evaporates.
9
Add margarine and toss for a couple of minutes over high heat to brown.
10
Spread on a tray or dish and set aside to cool.
Chef's tip
Serve our baked fruit with caramelised pecans and some plant-based yogurt.
Complements
Match your recipe with the best movies and rhythm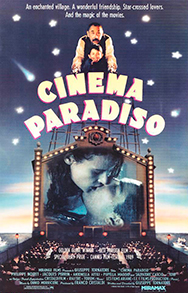 Cinema Paraiso
1988
Drama
I want to subscribe to the newsletter and
find out all the news
Rate the recipe!
Community assessment
The vote was successful