Thai mussels with dry white wine

Hob

Video recipe

Fish and seafood

Main dishes
Description
Anytime is good enough to uncork a dry white wine bottle. A wine that tastes soft, with a velvety—yet fresh—bouquet. And with the clean aroma of the green tones, which turns into an explosion of flavours. All this makes this wine the right choice for shellfish like mussels. This time, as a wink to Thai cuisine, we add a touch of hot stuff to awaken all of your senses at once.
Ingredients
Servings for 2
Tablespoon of green curry
1
Preparation
1
Fry chopped garlic and shallots in a pan with olive oil.
2
When the onion is tender, add the curry paste, fry for a couple of minutes, and pour in the coconut milk. Shred the lime and squeeze it. Toss well and add the previously washed and clean mussels.
3
Cover the pan and cook for four more minutes until the mussels open.
Chef's tip
Serve and sprinkle some Maldon salt with the chilli flakes to taste, and garnish with coriander leaves. Pair it with a glass of dry white wine.
Complements
Match your recipe with the best movies and rhythm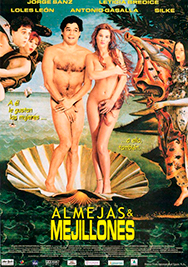 Almejas y mejillones
2000
Comedy
I want to subscribe to the newsletter and
find out all the news
Rate the recipe!
Community assessment
The vote was successful