Oven

Video recipe

Bread
Description
Lockdown or that time when we all became bakers.
If there is any recipe on top of all the recipes during these months at home, that was homemade bread. Everything began one year ago, and today, we just want to remember those happy moments we could enjoy at home. A time to learn new things and get the most of our oven. Because when everything looked grey, you could smell the fresh aroma of the homemade bread from any window.
Ingredients
Servings for 1
Preparation
1
In a big bowl, mix flour, yeast and salt together. Add water and stir gently for 2 or 3 minutes until everything is well-combined. Don't knead the dough, just stir.
2
Cover the bowl with a tea towel and let it rest for 12 or 18 hours in the refrigerator. After that, the dough must be full of bubbles.
3
Flour the work surface, place the dough over it, sprinkle with more flour and fold it over itself. Pinch each side and bring them to the centre.
4
Rest in the refrigerator for 15 minutes, cover with a wet tea towel. Then, repeat the four corners folding again to shape it into a ball.
5
Put the dough in a bowl with parchment paper, with the folding side down. Cover the bowl with a tea towel and let the dough to ferment for two hours at room temperature until it doubles its size.
6
Preheat the oven to 250ºC with a covered pot or similar suitable for the oven.
7
Transfer the dough with the parchment paper to the pot
Chef's tip
Once the bread is golden brown, remove it from the pot and the parchment paper and let it cool in a cooling rack. Ready to enjoy!
Complements
Match your recipe with the best movies and rhythm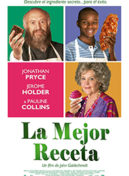 La mejor receta
2015
Comedia dramática
I want to subscribe to the newsletter and
find out all the news
Rate the recipe!
Community assessment
The vote was successful