Mushrooms, lentils and potato pie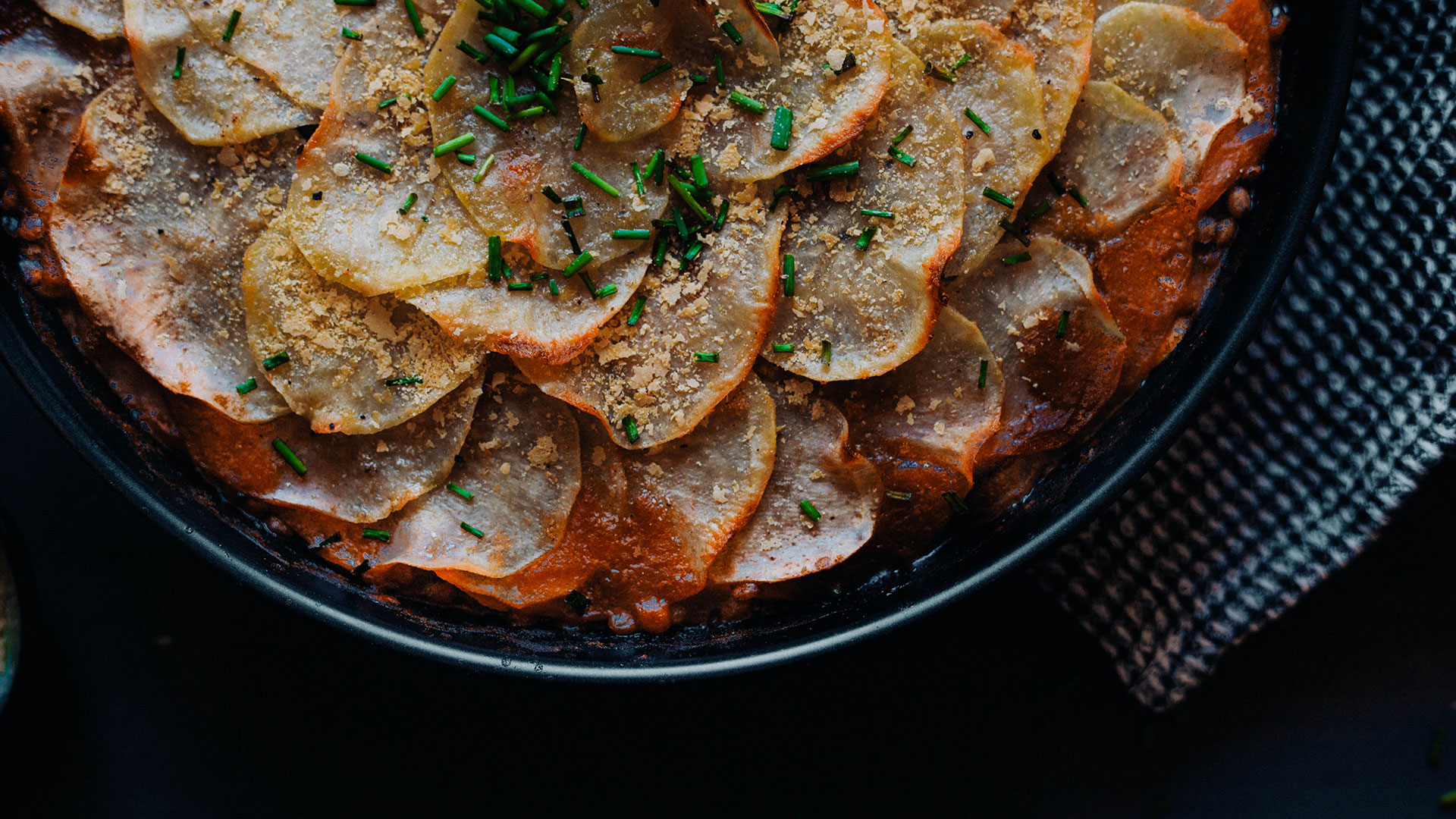 Oven

Recipe

Vegetable

Christmas

Vegans

Main dishes
Description
The main dish must shine on your table, and this mushrooms, lentils and potatoes pie knows a lot. It is nothing like enjoying how your guests expect what's coming next. Meanwhile, you take the pie from the oven and place it in the middle of the Christmas table in slow motion. Taste those moments calmly, like this recipe.
Ingredients
Servings for 4
Pardinas lentils (green to brown variety of lentils, Variabilis)
100 g
Cup of homemade tomato sauce
1
Tablespoon of garlic powder
1
Tablespoon of truffle oil
1
Preparation
1
First, cook the lentils al dente (about 25 minutes) with a pinch of salt and cumin, drain, and set aside.
2
In a large skillet, stir fry the onion and the celery with a spoonful of olive oil. When golden brown, add the chopped mushrooms and the diced pumpkin. Cook over high heat for 10 minutes.
3
Pour in the white wine and cook until it reduces. Incorporate the lentils and tomato sauce, stir and set aside for 15 minutes.
4
Place this sauce in an oven dish or mould.
5
Slice the potato thinly (better with a mandoline), cover them gently with a bit of truffle oil, and add some pepper, nutmeg, and a pinch of salt.
6
Garnish the dish where the sauce is with the potato slices until covered.
7
Bake at 180 °C for 30 minutes, or until the potatoes are golden brown.
8
Take it out of the oven, and decorate it with chopped chives and nutritional yeast before serving.
Chef's tip
Garnish this mushrooms, lentils, and potato pie with chopped chives and nutritional yeast on top before serving.
Complements
Match your recipe with the best movies and rhythm
Amor de calendario
I want to subscribe to the newsletter and
find out all the news
Rate the recipe!
Community assessment
The vote was successful