Vietnamese rolls with vegetables and prawns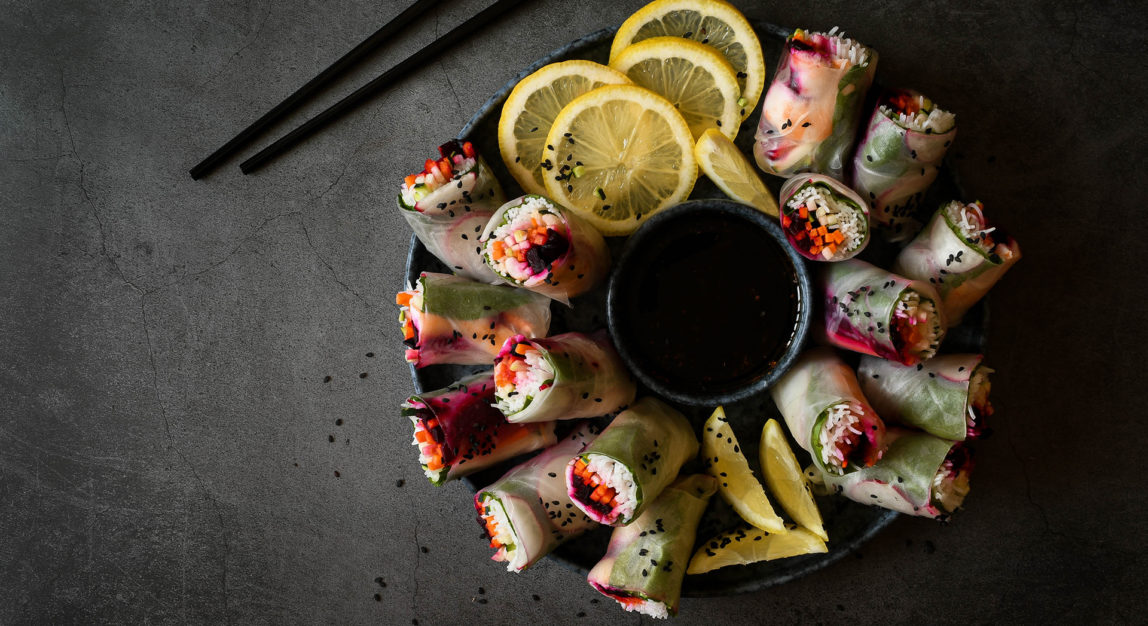 Raw food

Recipe

Fish and seafood

Vegans

Asian

Starters
Description
We are on our way to the kitchen with our chopsticks to begin the journey. Next stop: Vietnam.
Today our taste buds visit the freshest secrets hidden inside the rice paper of the well-known Vietnamese Rolls. This brilliant Vietnamese gastronomy recipe is easy to do and versatile because you can fill them with your favourite ingredients. In this case, we have chosen prawns and vegetables.
Ingredients
Servings for 8
Tablespoons of soy sauce
3
Tablespoon of lime juice
1
Chopped chilli pepper (optional)
Preparation
1
The sauce will be cooking first so it can be in the refrigerator and cold enough when serving. Mix all the ingredients in a bowl and place it in the fridge.
2
Peel the prawns, cut in half lengthways, remove the intestine and set them aside.
3
Heat some olive oil in a skillet and sear prawns, both sides.
4
Soak noodles in boiling water for four minutes. Drain and save for later. Prepare vegetables and set them aside too. Cut zucchini and carrot into strips. Wash and dry spinach leaves and remove stems. Wash and slice the radishes. Cut the beetroot into strips.
5
Hydrate rice paper one by one with a brush soaked with cold water until they are tender (in seconds).
6
Fill each one with radish slices, spinach leaves, rice noodles, zucchini, carrot and beetroot strips and two prawn halves.
Chef's tip
When rolling the Vietnamese rolls, be sure the edges are closed to keep the filling inside. Serve with sauce and good luck with chopsticks!
Complements
Match your recipe with the best movies and rhythm
I want to subscribe to the newsletter and
find out all the news
Rate the recipe!
Community assessment
The vote was successful