Spanish omelette stuffed peppers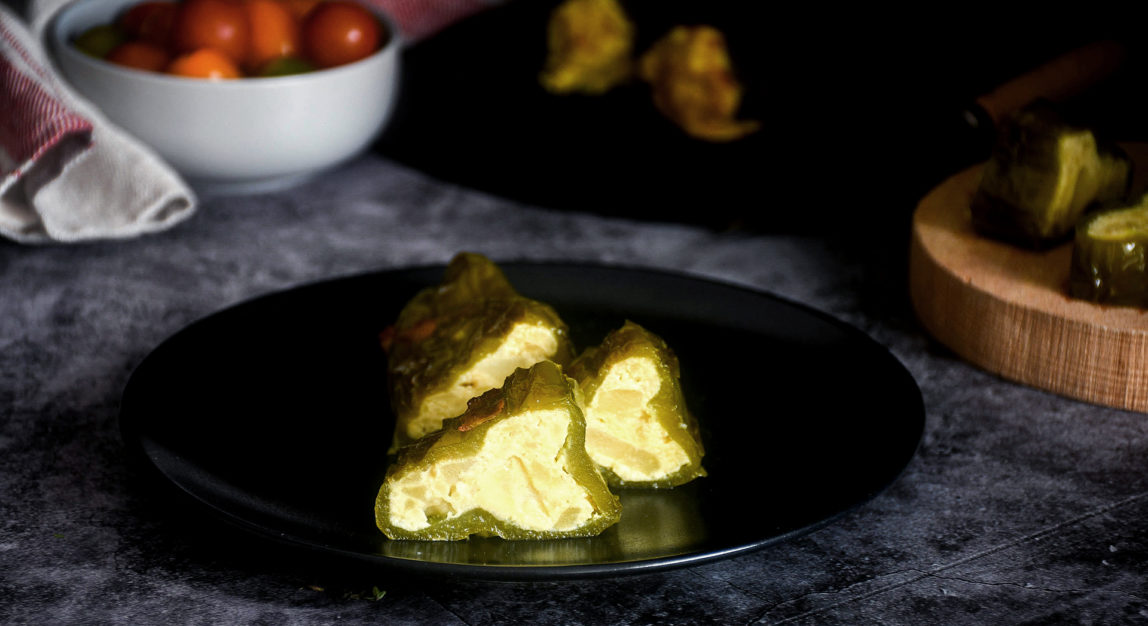 A la plancha

Recipe

Eggs and dairy
Carnival

Vegetarian

Spanish

Snacks
Description
We are not going to talk about how welcome or not is onion in the Spanish omelette recipe. But one thing for sure: roasted green peppers are a great accompaniment for this magnificent omelette.
And, just because we love to turn things upside down, we also have decided to change the main character in this recipe and make the peppers the brightest ingredient, stuffing them with the exceptional Spanish omelette taste. A different and funny wat to eat this delicious recipe combination.
Ingredients
Servings for 4
Preparation
1
Peel and cut into pieces onion and potatoes.
2
Deep fry onion and potatoes in a pan with olive oil over low heat for 30 minutes or until tender.
3
Remove from heat, drain the oil excess, and place in a bowl.
4
Add the beaten eggs and salt to taste. Stir and set aside to cool before stuffing the peppers.
5
Remove seeds and core, wash thoroughly.
6
Stuff with the potato, onion, and egg recipe.
7
Heat some olive oil in a pan and stir fry over low heat, flipping them to cook evenly both peppers and omelette inside.
Chef's tip
You can eat these omelette stuffed peppers warm or cold. You can also place them in a food container to enjoy them in a picnic, as an appetizer or whenever you want to.
Complements
Match your recipe with the best movies and rhythm
I want to subscribe to the newsletter and
find out all the news
Rate the recipe!
Community assessment
The vote was successful