Red Onion and Rosemary Focaccia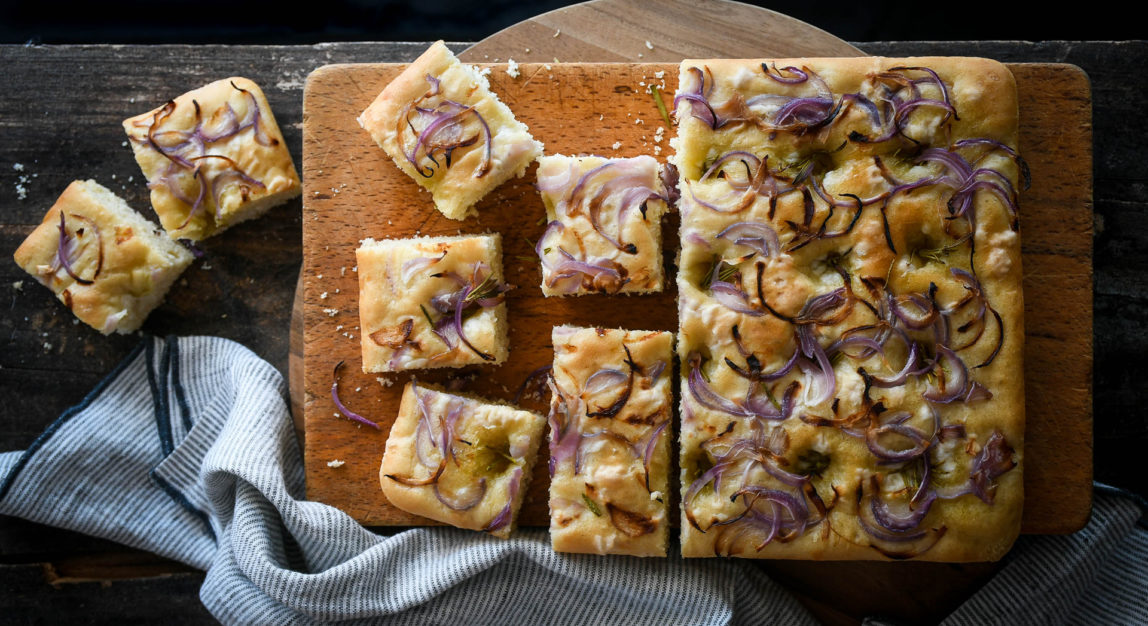 Recipe

Bread

Vegans

Italian

Starters
Description
This Focaccia of Red Onion and Rosemary is enjoyed with the same fluffiness as the dough of homemade bread and it is savoured as the ingredients and aromas of a good pizza. So focaccias are cousin's sisters of the pizzas, with a flat base inherited from the best bread recipes. They accept almost any ingredient that appeals to your palate, and are a perfect choice for a good Friday dinner. Who dare to make it?
Ingredients
Servings for 4
Extra virgin olive oil, for the dough
50 g
All-purpose wheat flour
300 g
Red onion, in thin strips
1/2
Sea salt flakes
1 teaspoon
Extra virgin olive oil
30 g
Preparation
1
In a bowl place the flour making a hole in the center and add the water, the dry baker's yeast, the extra virgin olive oil and the salt. Knead for a couple of minutes or until a homogeneous mass is obtained.
2
Grease a rectangular baking dish and spread the dough over the entire surface. Cover with a clean cloth and let set for 1 hour.
3
Preheat the oven to 220º C.
4
Press the dough with the tips of your fingers and gently brush with the rest of the extra virgin olive oil.
5
Place the ingredients on top, in this case the onion strips and sprinkle with rosemary leaves and salt flakes.
6
Bake for 20 minutes or until golden.
Complements
Match your recipe with the best movies and rhythm
Interstellar
2014
Ciencia Ficción. Drama. Aventura
I want to subscribe to the newsletter and
find out all the news
Rate the recipe!
Community assessment
The vote was successful