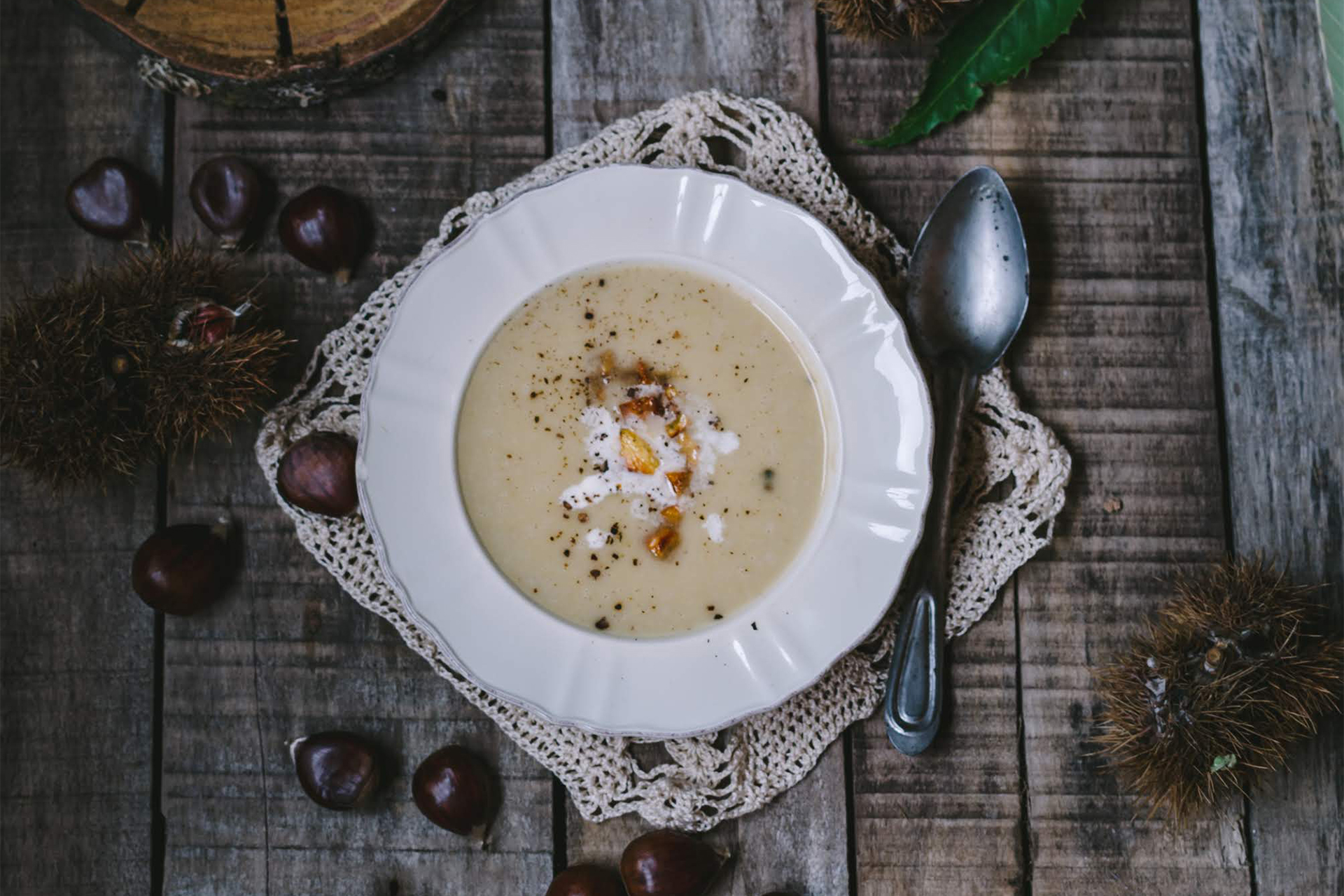 Recipe

Creams and soups

Christmas

Vegetarian

Starters
Description
We have entered the Christmas month and, if there is a smell that reminds us of these dates and that fill the houses and streets of all the cities it's the smell of chestnuts. This small fruit aromatizes many Christmas memories, whether roasted or in a delicious cream like the recipe we bring you today.
Ingredients
Servings for 4
Vegetable or chicken broth
500 ml
Preparation
1
Preparing the chestnuts: made a small cut in every chestnut and boil in a pot with water for 20 minutes (for old chestnuts, you may need more time).
2
Chestnuts can be cooked in the microwave too, covered with water and in a suitable plate or container for 10 minutes, full power.
3
Once they are cooked, peel and set aside.
4
Heat two tablespoons of olive oil in a pan.
5
Chopped leek, onion, and garlic and put them in the pan.
6
Sauté for a couple of minutes over low heat, add water and broth, and salt.
7
Bring it to a boil, simmer then and cover with a lid.
8
Cook for 15 minutes and add chestnuts (save 3 or 4 for later).
9
Cook for 5 more minutes.
10
: Remove from the heat and save two large spoons of broth.
11
: Puree everything together in a blender and add cream.
12
: Add salt and pepper with water or broth we saved before to make the soup thicker or creamy.
13
: For an extra crispy touch, we can caramelize some chestnuts.
14
: Heat 20g butter in a skillet (a teaspoon). Once is melted, add the chopped chestnuts.
15
: Stir fry until golden brown. Then, add 15g sugar (1 tablespoon).
16
: Stir until they are caramelized, be sure you don't burn them. Remove from the heat and skillet and sprinkle over our soup.
Complements
Match your recipe with the best movies and rhythm
Pulp Fiction
1994
Thriller
I want to subscribe to the newsletter and
find out all the news
Rate the recipe!
Community assessment
The vote was successful