Black and white cookies trampantojo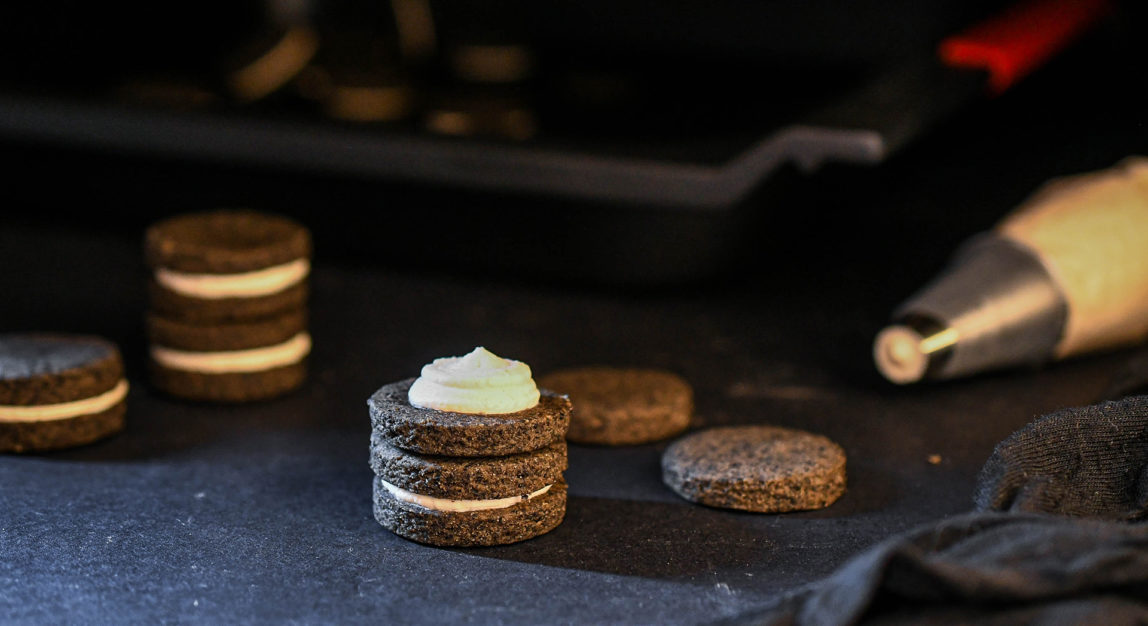 Oven

Recipe
Carnival

Snacks
Description
Trampantojos or how to disguise a recipe most original and funny way. The appearance of these fake cookies will remind you to those sandwich cookies you just want to take the top off and soak in milk. But the truth is the recipe we bring you today tastes better with a soda or a cold beer.
Ingredients
Servings for 20
Butter at room temperature
45g
Teaspoon sweet paprika
1/4
Preparation
1
Drain the olives well in a colander and dry.
2
Spread the olives in a plate suitable for microwave and them between two pieces of paper towel.
3
Put in the microwave for 15 minutes at 500W. Remove the plate carefully, wait until olives are cool, and check if the olives are dry. You can put in the microwave a few more minutes if needed.
4
Mash the olives with the butter and the egg.
5
Add flour and mix until well-combined and you have a smooth dough.
6
Stretch de dough between two sheets of parchment paper with a rolling pin until it is less than 1 cm thick.
7
Place the dough in the refrigerator for 30 minutes.
8
Then, cut the dough into small circles of 3 to 3,5cm with a round pasta cutter and place over an oven tray with parchment paper.
9
Preheat the oven to 175ºC with top and bottom heat, bake for15 minutes.
10
Meanwhile, prepare the filling by mixing cream cheese with sweet paprika. Place inside a pastry bag with a round piping tip and set aside.
Chef's tip
When cookies are baked, remove from the oven tray to cool before filling them and serve.
Complements
Match your recipe with the best movies and rhythm
I want to subscribe to the newsletter and
find out all the news
Rate the recipe!
Community assessment
The vote was successful