Banana Bread with chocolate

Oven

Video recipe

Fruit

Breakfast

Vegetarian

Desserts
Description
It is trendy to try new flavours, fusion food, exotic dishes, and even insects. But many of us are still unable to eat a banana once it has reached that stage of maturity when its skin becomes more toasted and its interior soft. Luckily, there are juicy and original recipes to give them an outlet, like this banana bread. Nothing goes to waste!
Ingredients
Servings for 1
Eggs (room temperature)
2
Vanilla extract
1 teaspoon
Extra banana for decoration
1/2
Brown sugar (for crunchy top)
10 g
Preparation
1
Preheat the oven to 180ºC before starting.
2
In a bowl, smash the ripe bananas with a fork. Then, add the flour, the sugar, the melted butter and a teaspoon of vanilla extract. Add baking soda too, two eggs and a pinch of salt. Mix everything with a whisk until everything is well combined.
3
You can also add some chocolate chips to the dough. Whisk again until chocolate is part of the mixture.
4
Use a rectangular mold greased with oil or butter to pour the banana bread mix. Sprinkle the brown sugar, cinnamon and chopped walnuts all over the bread and bake for 40 minutes. You can place half banana on the top to decorate.
5
Remove from the oven and it will be ready to eat.
Complements
Match your recipe with the best movies and rhythm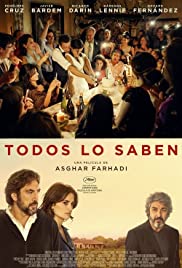 Todos lo saben
2018
Crimen. Drama. Misterio.
I want to subscribe to the newsletter and
find out all the news
Rate the recipe!
Community assessment
The vote was successful