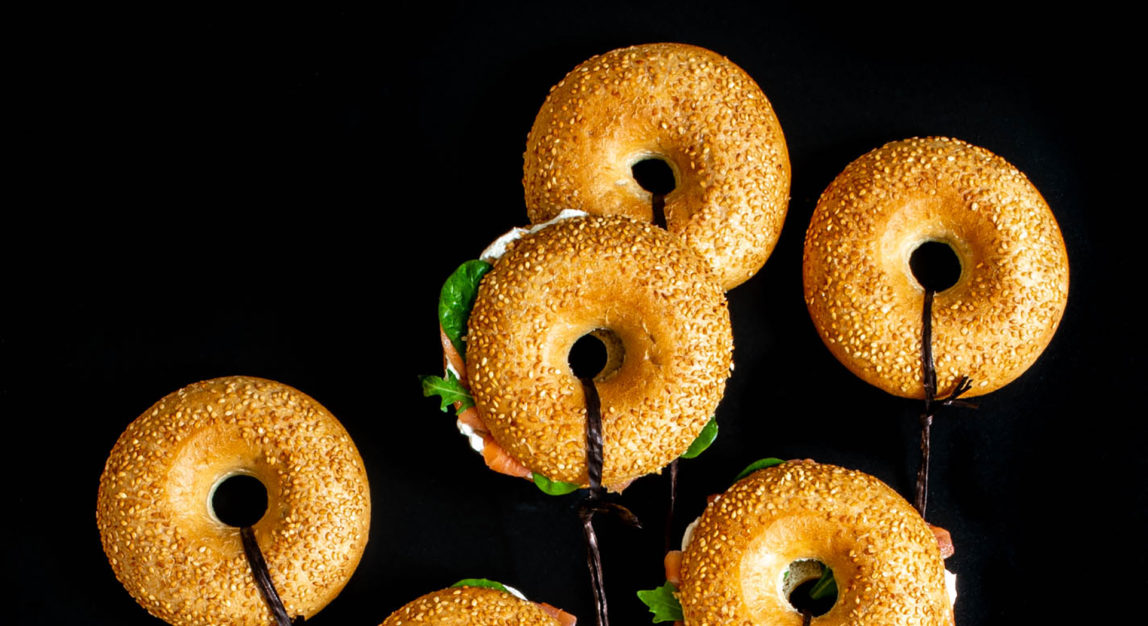 Oven

Recipe

Bread

Breakfast

American
Description
Feeling number 7 while cooking: freedom.

Today, while we were baking these bagels, we felt how freedom aroused. Freedom to bake any recipe we can think about, to conquer each corner of our hob, and to fly. Thanks to cooking, we can go to any part of the world, floating with every flavour, and caress the clouds full of aroma with every recipe.
Ingredients
Servings for 10
Fast-action dried yeast
7g
Strong white flour, plus a little extra for shaping
500g
Teaspoon of brown sugar
2
Teaspoon of of bicarbonate of soda
1
Preparation
1
Mix the yeast with the water. Put the flour, sugar and salt in a large bowl and mix together. Pour over the yeasty liquid and mix into a rough dough.
2
Tip out onto the work surface and knead together until smooth and elastic. This should take around 10 mins.
3
Put the dough in a lightly oiled bowl and cover with a clean cloth. Place in a warm area and leave until doubled in size, about 1 hour.
4
Uncover and tip onto your work surface. Divide the dough into ten portions, making sure they are all the same size and form into balls. Line up on two parchment-lined baking trays and cover with clean cloths. Let rise for around 30 mins until puffy.
5
Use a floured finger to make a hole in the centre of each bagel, swirling it around to stretch the dough a little but being careful not to knock out too much air.
7
Fill a large saucepan with water, bring to the boil and add the bicarbonate of soda.
8
Place 1-2 of the bagels in the water at a time and boil for 1 minute, turning over halfway through. Using a slotted spoon, lift out the bagels, drain well and place back on the baking tray.
9
Brush the bagels with the egg white and sprinkle generously with sesame seeds. Bake for 20-25 minutes or until golden brown.
10
Transfer to a wire rack to cool before eating.
Chef's tip
Serving suggestion: fill with cream cheese, smoked salmon and green leaves (baby spinach, rocket, etc.).
Complements
Match your recipe with the best movies and rhythm
I want to subscribe to the newsletter and
find out all the news
Rate the recipe!
Community assessment
The vote was successful