2400 million cookies (pâte sablée)

Video recipe

Bread

Breakfast

Vegetarian

Desserts
Description
This Friday, April 3rd, the 4th season of La Casa de Papel is released on Netflix. And since we imagine many of you will be doing couch and TV marathon, we wanted to copy the gang and give a masterstroke but in our kitchen. Baking nice snacks and cookies, lots of cookies. We're gonna bake 2.4 billion cookies.
Ingredients
Servings for 6
Unsalted butter, cold and diced
125 g
Preparation
2
Sift flour and icing sugar and combine them with a dough mixer. Add butter dices with a spatula, stirring at the same time. Pour the yolk and mix until everything is well-combined and you have a soft dough.
3
Flour your work surface and flatten the dough with a rolling pin for a three mm thickness.
4
Cut the sablée dough into your wafer banknotes notes.
5
Place the cookies on an oven tray with parchment paper.
6
Bake for 15 minutes at 170ºC. Remove from the oven and cool for 10 minutes.
7
Melt a bit of butter and spread it with a paintbrush on every cookie to stick the wafer banknotes over them.
Complements
Match your recipe with the best movies and rhythm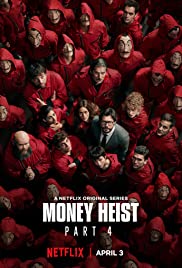 La casa de papel
2017
Acción. Crimen. Misterio. Thriller
I want to subscribe to the newsletter and
find out all the news
Rate the recipe!
Community assessment
The vote was successful