Halloween recipes? Of course, we have! If you have to plan Halloween recipes for your friends and family, no prob. This menu has several easy ideas to bring your celebration to the next level. Because you can still be that friend who wears just a wig to say she/he is ready for a crazy Halloween, ok, but food… you really can't play with food, happy Halloween!
Ingredients
Oven-roasted chestnuts
Chocolate figurines and cake
Puff pastry
1 Dark chocolate bar
2 Tablespoons of margarine
1 Tablespoon of maple or agave syrup
Stuffed aubergines
2 Aubergines
1/4 Tablespoons of beans
1/2 Onion
Cherry tomatoes
1/4 Cup of rice
Panellets
125g Sugar
1 Seet potato
175g Almond flour
1 Pine nuts pack
Maple or agave syrup
Beyond burger with sweet potato and caramelised onion
Beyond burgers
1 Sweet potato
3 Onions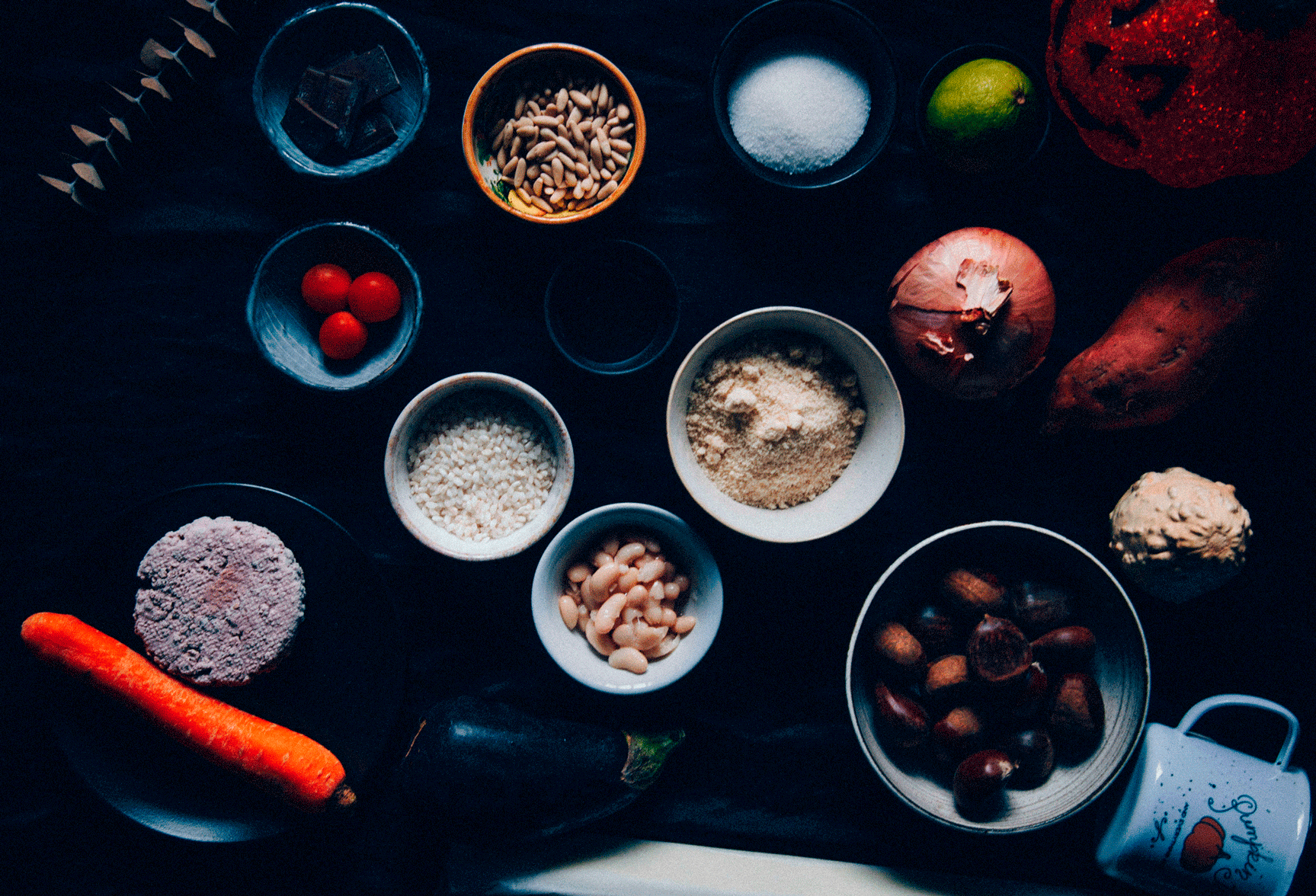 Oven-roasted chestnuts
Wash the chestnuts and dry them with a cloth. Remove those ones with holes or cuts.
With a sharp knife, make small cuts in X in each one. Spread them on an oven tray and bake them for 20 minutes at 200 °C (10 minutes on one side, 10 minutes on the other).
Stuffed aubergine
Cook the rice. Cut the aubergine in half and make small cuts on each one, lengthwise, on both ways, and bake until golden brown (around 20 minutes) at 180°C. Remove the flesh with a fork and mix it in a bowl together with the rice, onion, and tomatoes.
Beyond burger with sweet potato and caramelized onion
Slice the onions and fry over low heat for 40 minutes, or until the onions caramelize. Slice the sweet potato and bake it for 30 minutes at 200°C until tender.
Panellets
Bake the sweet potatoes until tender. Toss with the almond flour and sugar, then make balls with this dough. Coat with pine nuts and press with your hands to adhere. Brush with agave syrup and bake at 180°C for 20 minutes, or until brown.
Chocolate figurines and pie
Spread the puff pastry sheet and cut part of it to create the figurines. Melt the chocolate with the margarine using the microwave or a bain-marie.
For the cake, cut a bit of a sheet for the base and some for making thin strips. Place the base on the mould, cutting the rims. Add some chocolate and put the strips on top, vertically first, then horizontally. Brush the surface with syrup.
For the figures, cut the puff pastry into pieces, shaping them into pumpkins, and make some holes (mouths and eyes). Add some chocolate over the ones without holes and cover them with the figures with eyes and a mouth. Seal both halves with water. Brush it with syrup.
Bake for 15 minutes for the figurines and 20–25 minutes for the pie.