Ingredients:
Ham croquettes
For the bechamel:
90g Butter
90g Wheat flour
1L Milk
Chopped ham
Salt
Pepper
For the coating:
Toast with cheese and grapes
Grapes (from New Years' Eve)
2 Tablespoons of honey
1 Loaf of crytal bread
Goat cheese cream
Walnuts
Balsamic vinegar reduction
Fresh thyme
Beetroot carpaccio
2 Cooked beetroots
Rocket salad
Hazelnuts
Salt
Pepper
Rice vinegar
Olive oil
Christmas prawn tacos
400g Prawns (from Christmas meals)
Olive oil
1 Tablespoon of soy sauce
1 Lime
Cumin
Salt
Pepper
Tacos tortillas
Coriander
Avocado
Pineapple
Radish
Hot chocolate with polvorones (Christmas short bread)
500ml Milk
1 Tablespoon of sugar
200g Dark chocolate (to melt)
5g Corn starch
Polvorones (short bread)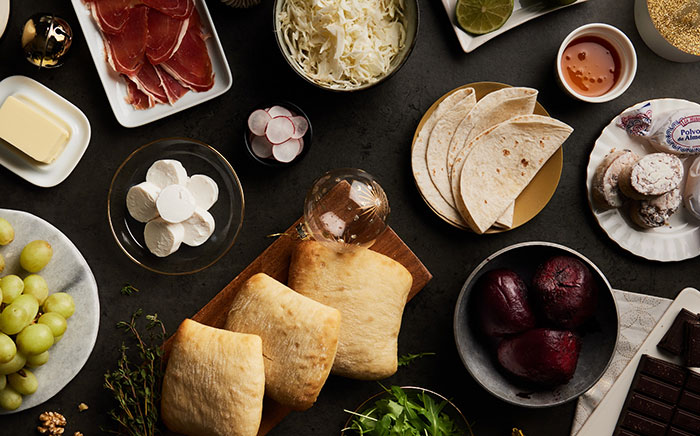 Ham croquettes
For the bechamel, melt the butter in a pan, add the wheat flour, and stir while cooking.
Add some milk (preferably hot milk) and stir until well combined, without lumps, and with a thick texture. Repeat the process with more milk, little by little, until we run out of milk or we reach the texture we are looking for.
Last, we add ham, salt, and pepper to taste. Set aside to cool and store in the fridge for at least 8 hours.
Shape the croquettes and coat with flour, egg, and breadcrumbs. If you like them crunchy, coat them twice with breadcrumbs.
Fry with soft olive oil or sunflower oil (you can also use the oven to cook them or the AirFry at 200°C for 10-15 minutes). Remove the excess oil with paper towels.
Toast with cheese an grapes
In a saucepan, place the grapes, previously washed, honey, and water. Bring them to a boil and cook for 20 minutes or until the grapes are caramelized.
Meanwhile, cut the bread into small pieces and toast it. Spread the goat cheese cream, place the grapes on top, and garnish with chopped walnuts, balsamic vinegar, and some fresh thyme.
Beetroot carpaccio
Slice the beetroot with a mandoline and place on a white plate.
Put some rocket salad on top, together with chopped hazelnuts, salt, and pepper.
Last, add some rice vinegar and olive oil to taste
Christmas prawn tacos
Peel the prawns and grill them over high heat with olive oil. When they are cooked outside, add the soy sauce, lime juice, cumin, salt, and pepper. Reduce until it caramelises.
Heat the taco tortillas in a frying pan or in the microwave (don't overheat or they will harden later) and set aside in a clean kitchen towel to maintain the heat.
Serve the tacos with mashed avocado, diced pineapple, some sliced radishes, and coriander. To assemble, place a base of avocado on the tortilla, followed by the prawns, pineapple, and radishes, and finish with the coriander to taste.
Hot chocolate with polvorones
Heat the milk in a saucepan with sugar. When it is hot enough, add the dark chocolate to melt and stir.
Dissolve the cornflour in a separate bowl with a little more cold milk or water and pour over the chocolate. Heat while stirring until it thickens.
Serve with a polvorón on top and eat it with a spoon.