We are getting serious today with haute cuisine techniques to prepare air or foams. Foams are part of molecular gastronomy and saying those words loud is enough to make the cutlery shake and see how the apron runs away from the kitchen. But keep calm: it is not as tough as it sounds. Let's go step by step.
What is "air" or foam?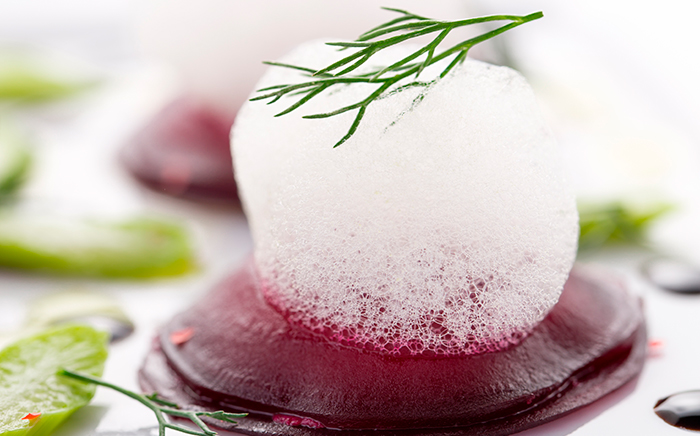 At the most basic level, it is the emulsion of gas and liquid. If you thought it was something close to what happens in your bathtub please, focus, we are into haute cuisine.
The first one to use this technique was the great chef Ferrán Adrià (who else?) with an emulsifier as a main ingredient and using a whipping siphon. The result is a delicate fluffy mixture similar to mousse but much lighter.
Although it looks like a gourmet cooking technique, you can even make it with a hand immersion blender.
What do we need to create foam at home?
– A liquid as the main ingredient: juice, stock, or any puree. It has to be very well-drained to avoid any lump.
– Lecithin, the magic ingredient, as an emulsifier. This will help to hold the air, so the shape lasts longer. With just a quick online search, you will know where to get it.
Foam ratios

Easy so far, right? Let's go with ratios and blending. The ratio will be 200 ml of liquid per 1 gramme of lecithin approximately.
1.To create foam using an immersion blender, add that mixture to a large bowl and whisk it with the blender at an angle. This will bring extra air to the liquid.
2.Blend for about a minute and let it rest one more minute to stabilize.
3.Gently, with the help of a spoon, serve your foam and impress your guests.
Write down this technique and give a chance to your inner chef to fly away with imagination.