Are you coming back from the holidays next week? We cannot give you a day off, but we can give you some recipes for a yummy weekly menu to help you out with your comeback. Happy belly, a happy return to routine (or that's what they say).
Ingredients
Courgette salad
1 Courgette
Rocket and lamb's lettuce leaves
Grated Parmesan cheese
Olive oil
Salt
Pepper
Pine nuts
Gnocchi with tomato sauce
400 g gnocchi
Salt
200 g homemade tomato sauce
100 ml evaporated milk
Cherry tomatoes
Sage leaves
Grated Parmesan cheese
Spanish style clams
3 Cloves of garlic
Extra virgin olive oil
10 g parsley
300 g clams
Salt
Lamb chops with herbs
40 g butter
Rosemary
Thyme
Sage
600 g Lamb chops
Salt
Pepper
200 g potatoes
200 g sweet potatoes
Fruit salad
1 Mango
1 Pineapple
100 g Strawberries
200 g Blueberries
200 g Raspberries
Mint
400 ml Orange juice
Sweetener (optional)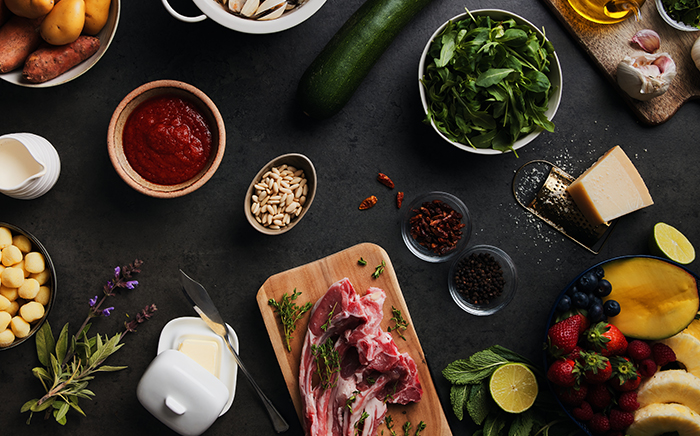 Courgette salad
Slice the courgette with a mandoline to get thin strips and mix with the lamb's lettuce and rocket leaves in a large salad bowl.
Dress with Parmesan cheese, olive oil, salt and pepper and toss.
Serve and garnish with roasted pine nuts.
Gnocchi with tomato sauce
Cook gnocchi in boiling water with salt, drain and set aside to cool.
Heat tomato sauce with evaporated milk, cherries cut in halves, and cook until it thickens.
Add gnocchi, a bit of sage, and toss.
Serve garnish with some grated Parmesan cheese.
Spanish style clams
Chop the cloves of garlic finely and fry in a skillet with olive oil
When they begin to fry, add parsley and keep frying until garlic is golden brown.
Add the clams and cook together until the clams are open.
Add salt if needed too and serve.
Lamb chops with herbs
For the chops: melt the butter in a skillet over medium heat. Add rosemary, thyme, and sage, and let infuse for a few minutes.
When the butter has the flavour of the herbs, add salt and pepper to the lamb chops and cook for both sides until brown.
For the side: cook the potato and sweet potato in the microwave in a bowl, covered with plastic wrap, without making holes on the surface, for 6 to 7 minutes, on full power.
Slice and finish the cooking by frying them in the skillet with butter and herbs until golden brown. Serve as a side dish for the lamb chops.
Fruit salad
Dice the mango and the pineapple, quarter the strawberries, and place them in a bowl together with blueberries and raspberries.
Chop the mint and add to the bowl.
Add if you wish some sweetener to the fruit salad, toss, and macerate for 30 minutes.
Serve with orange juice. If you don't use a sweetener, add the orange juice in the previous step to macerate with the rest of the fruit.