We are testing the rice cooking function of our new DirectSense hob, so this week we have plenty of recipes with rice. But we still have some more for our weekly Batch Cooking, so here we go with these easy, vegan, and rich in nutrients recipes.
Ingredients
Beans
2 Cups of raw beans
A pinch of salt
1/2 Onion
2 Cloves of garlic
Rice with vegetables
1 Cup of rice
2 Artichokes
2 Carrots
A bunch of green beans
Red and green pepper
1/2 Onion
1 Clove of garlic
A piece of courgette
Mushrooms
A pinch of salt and turmeric
1/2 Cup of tomato sauce
Aubergine chips
1 Aubergine
1/2 Breadcrumbs
A pinch of salt
Spanish pisto (ratatouille)
1 Cup of tomato sauce
1 Piece of aubergine
1 Piece of courgette
Red and green pepper
1 Clove of garlic
½ Onion
A pinch of salt
Pasta with spinach
A bunch of spinach
1 Cup of lentils pasta (or whole wheat pasta)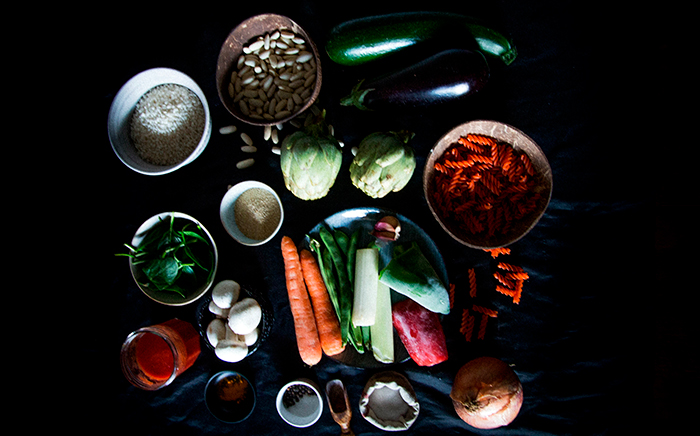 Beans
 Put the beans to soak the night before to shorten cooking time.
Simmer with abundant water, garlic, and onion for one hour and a half approximately, until tender.
Rice with vegetables
Cut all the vegetables into pieces and stir fry in a skillet with oil.
When brown, add salt and turmeric. Stir and add tomato sauce.
Cook over low heat for a couple of minutes and add the rice.
Boil some water or vegetable broth in a pot. When ready, pour two cups of this into the skillet and stir fry again.
If needed, pour some more water until the rice is cooked.
Aubergine chips
Cut into fine slices the aubergine and soak in water for one hour.
Mix salt with breadcrumbs and coat the aubergine slices.
Put them in an oven tray with some oil and bake at 180ºC for 30 minutes until they are golden brown.
Spanish pisto (ratatouille)
Stir fry all the vegetables until brown. Add tomato sauce and a pinch of salt, cook over medium-low heat for 12 minutes.
Pasta with spinach
Cook pasta al dente, and mix with spinach.