Ingredients
Artichoke soup
4 Artichokes
1/2 Onion
1 Potato
A pinch of salt
Hummus
1 Tin of canned chickpeas
1 Tablespoon of tahini
1 Clove of garlic
A pinch of salt
Vegetable gyozas
200 g Flour
100 ml Water
A pinch of salt
1 Carrot
1/2 Aubergine
A bunch of green beans
Aubergine chips
1/2 Aubergine
A pinch of salt
1 Tablespoon of garlic powder
1/2 Cup of breadcrumbs
4 Tablespoons of flour + 1/3 Cup of water
Chocolate mousse
The liquid of the can of chickpeas
2 Tablespoons of sugar
1/2 Dark chocolate bar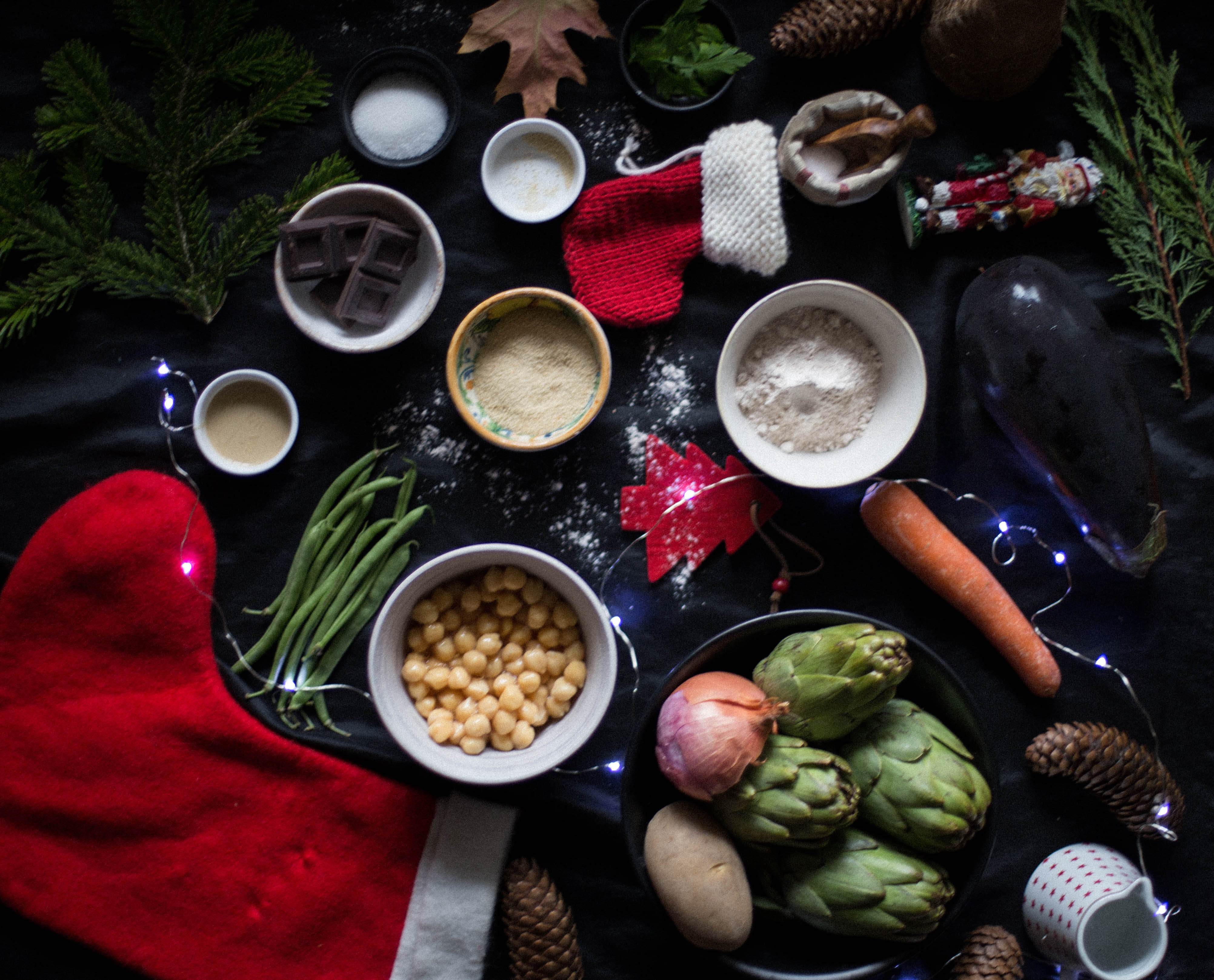 Artichoke soup
Peel and halve the artichokes and the potato. Cut the onion into small pieces.
In a skillet or a pot, stir fry the onion until golden. Add the artichokes and the potato, cook covered with a lid for 20 minutes with 1/3 of water.
Blend all the ingredients well and add more water if needed. You can use a strainer to remove the strings from the artichokes.
Hummus
Mash all the ingredients together.
Vegetable gyozas
Mix the flour, salt, and water until you have a dough.
Knead until you have a smooth dough that does not stick to your hands, divide it into several portions (around 15). Knead each one and shape it like a small ball. Then, stretch each ball with a rolling pin until you have a disk made out of dough.
Wash and cut all the vegetables, stir fry them with some oil until golden brown.
Place a spoonful of the filling in the middle of each disc of dough. Wet the edges a bit with water to seal them. Pleat into halves and seal the edges together.
In the same skillet, add more oil and stir fry the gyozas for a couple of minutes. Then, add some water until it covers the bottom, put a lid on, and steam them for 5 minutes.
Aubergine chips
Wash and slice the aubergine.
Mix together the flour and water and, in another bowl, the breadcrumbs, salt, and garlic powder. Coat the aubergine slices first with flour and water and then into the breadcrumbs.
Fry until golden brown.
Chocolate mousse
Whisk the liquid from the canned chickpeas until it foams. Add sugar and keep whisking for around 10 minutes until stiff peaks.
Melt the chocolate and fold gently. Place the mix into small glasses and store it in the fridge.