INGREDIENTS
Roast Beef sandwich
1 Courgette
Extra virgin olive oil
Salt
1 Loaf of bread
Roast beef
Lamb's lettuce
Yoghurt sauce
Brie cheese
Labneh with roasted tomatoes
300 g Plain sheep milk yoghurt
2 g Salt
Pepper
200 g Cherry tomatoes
Olive oil
½ Teaspoon oregano
½ Teaspoon thyme
¼ Teaspoon cumin
Pita bread
Cheese quiche
1 Shortcrust pastry
3 Eggs
200 ml Evaporated milk
Assorted cheeses (Christmas leftovers)
Salt
Pepper
Oregano
Cannelloni with meat from stew
For the cannelloni:
1 Clove of garlic
½ Onion
30 ml Extra virgin olive oil
Meat leftovers from a stew
2 Tablespoons of pâte de foie gras
Pasta layers
For béchamel and garnish:
90 g Butter
90 g Flour
800 ml Whole milk
Salt
Pepper
Nutmeg
Grated cheese
Grated cheese
Fresh parsley
Nougat ice cream
150 g Soft nougat
400 ml Whole milk
200 ml Double cream
50 g Sugar
Chocolate cream or syrup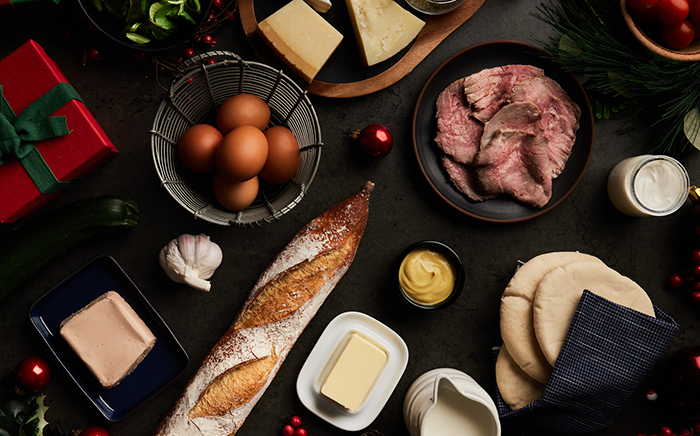 Directions:
Roast beef sandwich
Slice the courgette (zucchini) with a mandolin, cook it on a griddle on both sides and add salt & pepper.
Cut the bread into portions and halve them lengthwise. Spread each half with yoghurt sauce and assemble the sandwich: first, the courgette slices; then, the finely sliced roast beef, brie cheese slices, and lamb lettuce. Put the other half over it.
Labneh with roasted tomatoes
For the labneh, pour the yoghurts in a strainer with a piece of cheesecloth over a bowl. Cover with cheesecloth and drain for 24 to 48 hours, to taste. Then, add salt & pepper and set aside.
For the cherry tomatoes: put the cherries in a bowl with the spices. Stir, and bake at 190 °C for approximately 20 minutes.
Serve the labneh in a bowl with the roasted cherry tomatoes, and serve with pita bread cut into triangles as a side dish.
Cheese quiche
Roll out the shortcrust pastry and place it in the quiche mould we are going to use, previously greased. Line it with parchment paper, put some chickpeas over it to add some weight to the surface, and bake at 190 °C for 15 minutes.
Meanwhile, prepare the filling. Beat the eggs with a whisker, add the evaporated milk, the mix of cheeses (grated or diced), salt, pepper, and oregano.
Pour the mix over the shortcrust pastry and bake again for 15 more minutes.
Serve garnished with fresh herbs.
Cannelloni with meat from stew
For the cannelloni filling, fry the onion until tender, together with the chopped garlic, in a skillet with a dash of oil.
Add the shredded meat from stew leftovers and cook for five more minutes. Stir in the pâte de foie gras to combine all of the ingredients.
For the béchamel, melt the butter in a skillet and add the flour. Cook it for a few minutes until it begins to turn gold, and then pour in the milk little by little while stirring.
Then, add some nutmeg to taste, as well as salt & pepper.
Finally, assemble the cannelloni with the pasta layers, pour the béchamel, cover it with grated cheese, and grill until it is golden brown.
Sprinkle some chopped parsley on the top.
Nougat ice-cream
With a hand blender, beat the nougat with sugar and milk. Put the mix in a saucepan over medium heat and wait until it thickens while stirring.
When it boils, remove it from heat and store it in the fridge to cool for three hours approximately.
Whisk the double cream until stiff peaks and fold the nougat mixture gently.
Pour the blend into a hermetic food container suitable for the freezer and freeze for 30 minutes. Take it off the freezer, beat it again, and freeze it for 30 more minutes. Repeat the process again twice and freeze completely.
v