These days at home many of us have taken advantage of cooking all those recipes that we have always wanted to try but that sometimes the clock prevented us from doing.
Cooking helps you to disconnect from your surroundings and connect with yourself and your family. Enjoy those moments with these new vegan Batch Cooking recipes, with very simple ingredients.
Ingredients
Arugula and strawberry salad
A handful of cherry tomatoes
2 tablespoons croutons
a few nuts
1 cup of arugula
1 cup lettuce
1 avocado
a few strawberries
a little parsley
Quinoa with tomato
A cup of quinoa
1/2 cup of tomato sauce
1 onion
1 clove garlic
Salt and pepper
Vinaigrette
One garlic clove
5 tablespoons of oil
3 tablespoons of vinegar
A little parsley
Baked donuts (6 donuts)
1/2 + 1/4 cup flour
1/2 cup of sugar
1/4 cup vegetable milk
1 tablespoon of oil
1 tablespoon of cocoa powder
1 tablespoon ground flaxseeds and three tablespoons water
A few drops of vanilla
1/2 teaspoon of baking soda
1 teaspoon of chemical yeast
Lemon (optional)
Pinch of salt
1/4 chocolate bar (to decorate)
1/2 cup of icing sugar (to decorate)
A handful of hazelnuts
Asparagus
A handful of asparagus
Oil and salt
Red rice
Strawberries
2 cups of strawberries
1 spoon of sugar
2 tablespoons of vinegar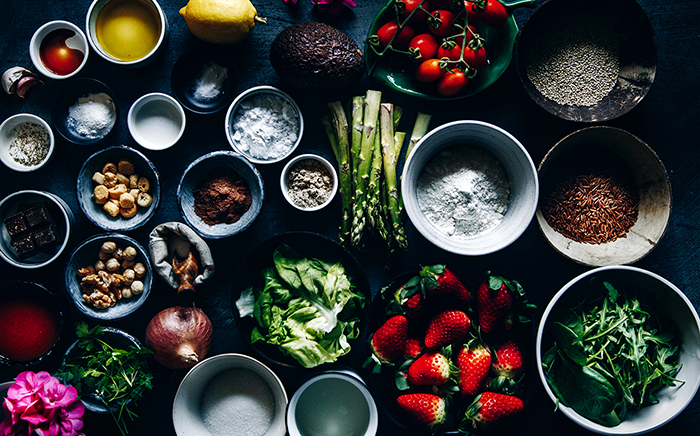 Arugula and strawberry salad
Wash the cherry tomatoes, arugula, strawberries and lettuce.
Cut everything and mix them with the other ingredients.
Vinaigrette
Mix all the ingredients and set aside to dress your salad to taste.
Quinoa with tomato
Cook the quinoa while frying the onion and garlic in the pan.
Once browned add the tomato sauce and cook over medium heat for about ten minutes. Add salt and pepper and mix with the quinoa.
Asparagus
Wash and cut the asparagus removing the whitest part.
Sauté them in a pan with a little oil and salt until softened.
Red rice
Cook the rice in a pot with water until it is al dente.
Baked donuts
Preheat the oven to 175º-180º C.
Add flour, sugar, cocoa, yeast, baking soda and salt in a bowl and mix very well.
In another bowl add the milk, the oil, the mixture of flax seeds and water and vanilla. Add zest of half a lemon (optional).
Add the dry ingredients to the liquid mixture little by little until you get a homogeneous mixture.
Spread the mixture into the 6 donut moulds and bake for about ten minutes.
Melt the chocolate bar in the microwave and mix the icing sugar with a few drops of water until you obtain a liquid paste.
Once the donuts are ready and cooled, decorate with the sugar and melted chocolate and sprinkle hazelnut pieces on top.