Spring is here, and that is something our kitchen knows. Colour, light, joyful and flowers season has arrived, and we begin with this Batch Cooking today, enjoy!
Ingredients
Chickpeas stew with curry, yoghurt and fresh herbs
1 Onion, green and tender
2 Cloves of garlic
400g Canned chickpeas
2 Tablespoon of ground curry
2 Tablespoon of ground turmeric
200ml Vegetable broth
Greek yoghurt
Fresh coriander
Olive oil
Salt
Fresh pasta with prawns, garlic and chilli
300g Fresh noodles
2 Cloves of garlic
2 Cayenne pepper
6 Raw prawns
Olive oil
Salt and pepper
Chickpea salad stuffed avocados
2 Big avocados
100g Canned chickpeas
¼ Green pepper
¼ Red pepper
¼ Yellow pepper
¼ Green onion
Fresh coriander
Olive oil
Salt
Pepper
Ground cumin
Spicy prawn salad
100g Mesclun (green leaf lettuce, endive, rocket, corn salad)
5 Raw prawns
1 Avocado
5 or 6 Cherry tomatoes
Hot paprika
Chilli flakes
Olive oil
Lemon juice
Salt
Yoghurt and fruit cup
Greek yoghurt
Strawberry marmalade
3 or 4 strawberries
Muesli with nuts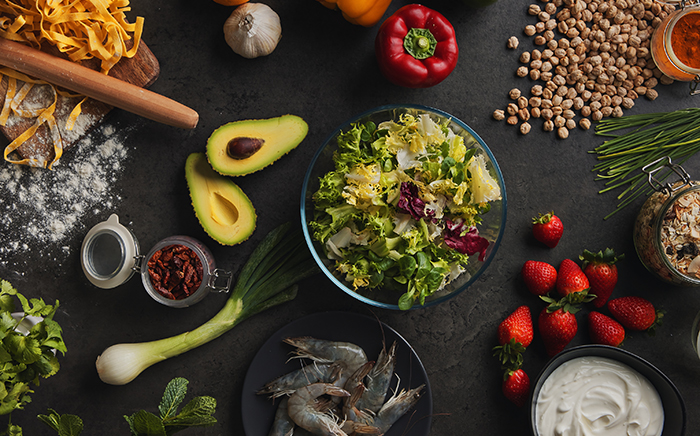 Chickpeas stew with curry, yoghurt and fresh herbs
Cut onion into julienne strips and stir fry in a skillet with olive oil. When golden brown, add chopped garlic and cook for a few minutes. Add spices and stir fry to release the aroma.
Pour the vegetable broth and add the chickpeas and bring it to a boil to thicken. Season it with salt to taste.
Serve with a bit of Greek yoghurt and chopped fresh coriander.
Fresh pasta with prawns, garlic and chilli
Boil fresh pasta with salt, following the cooking time instructions of the package. Drain pasta and add some olive oil to prevent noodles from sticking together. Save some of the pasta water for later.
In a skillet with enough oil to fry, cook the sliced cloves of garlic with the chopped cayenne peppers.
Peel prawns and fry in the same skillet with garlic and peppers.
Add boiled pasta with two or three tablespoons of the pasta water, stir fry until all ingredients are well-combined.
Chickpea salad stuffed avocados
Cut avocados in half, remove the pit and scoop the flesh out.
Chop all the vegetables together with the finely diced avocados.
Mix with chickpeas and season with a dash of oil, salt, pepper and cumin to taste.
Fill the halves and decorate with some fresh coriander.
Spicy prawn salad
Peel raw prawns and marinate for 15 minutes in a mix of oil with paprika and chilli flakes.
Slice avocado and set aside.
Drain mesclun and set aside as well.
Drain prawns and sear in a skillet over high heat on both sides.
Mix salad with vegetables, season with oil, salt, and lemon juice. Decorate with some chilli flakes.
Yoghurt and fruit cup
Place some Greek yoghurt in the base of the cups.
Then, put a layer of strawberry marmalade, as much as you want.
Finish with one more yoghurt layer and decorate with muesli and some strawberries cut into pieces.