We travel to Mexico from our kitchen with these new Batch Cooking recipes. Enjoy this theme menu and give a new flavour to your week.
Ingredients
Homemade coleslaw
¼ Cabbage
¼ Red cabbage
2 Carrots
Mint leaves
Olive oil
Lime juice
Salt and pepper
Chicken skewers
1 Chicken breast
½ Onion
½ Green pepper
Long, wood skewers
Olive oil
Salt and pepper
Fish tacos
4 Hake fillets
2 Beaten eggs
Wheat flour (for coating)
Coleslaw
Corn tortillas
Lime juice
Fresh coriander
Olive oil
Salt and pepper
Mexican soup with chicken
2 Tomatoes
1 Clove of garlic
1 Tablespoon of tomato paste
½ Tablespoon of ají panca paste
500ml Chicken broth
2 Corn tortillas
Feta cheese
Olive oil
Salt and pepper
Lionesas (profiteroles) with whipping cream
100g Flour
2 Eggs
50g Butter
5g Sugar
3g Salt
80ml Milk
125ml Whipping cream
40 g Sugar
Icing sugar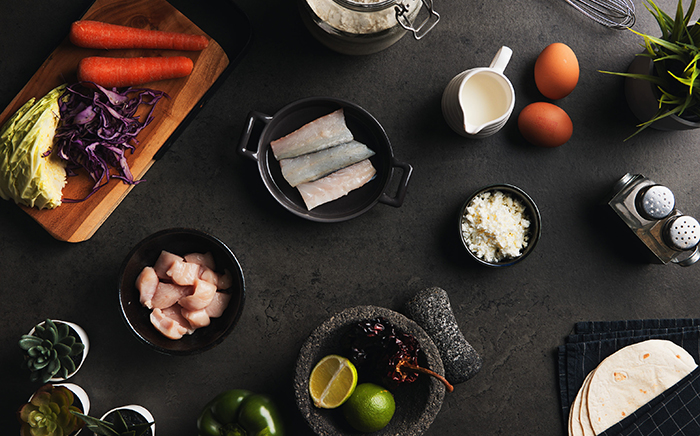 Coleslaw
Cut all the vegetables into fine strips with a knife or with a mandoline.
Place them in a big bowl and season with olive oil, lime juice, salt and pepper to taste.
Decorate with mint leaves.
Chicken skewers
Cut the breast into big dices and season with salt and pepper.
Cut onion and green pepper into big square portions too.
Skewer the chicken dices and the onion with green pepper, one at a time.
Heat a frying pan with oil and cook the chicken skewers evenly until golden brown.
Fish tacos
Season hake fillets with salt and pepper and coat, dip in egg batter first, then in flour. Deep fry and set aside.
Heat corn tortillas in a pan without oil until brown and set aside, covered with a clean tea towel.
Assemble tacos with a corn tortilla, a coated hake fillet, a bit of coleslaw, and season with lime juice and fresh coriander leaves.
Mexican soup with chicken
Peel and dice tomatoes, frying them in a saucepan with oil together with garlic.
Add tomato and ají paste and cook for a few more minutes.
Add chicken broth and bring it to a boil, cook for 10 minutes. Blend with a mixer for a smooth soup and season with salt and pepper to taste.
Cut corn tortillas into strips and fry deep fry.
Serve soup with fried corn strips, a bit of Feta cheese crumbs, and a lime segment.
Lionesas (profiteroles) with whipping cream
Heat milk and butter in a saucepan. Add salt and sugar and bring it to a boil. Then, add flour at once and stir to get a dough.
Remove from the heat and, when the dough is warm, add one egg, stir until integrated and add the second one, stirring again until everything is well-combined.
Put the dough in a piping pastry bag and place portions on an oven tray with parchment paper. Bake at 180ºC for 15-20 minutes.
Whisk whipping cream and sugar until it forms peaks. Put in a piping bag.
Cut the lionesas (or big profiteroles) in half with a knife and fill with the whipping cream. Decorate sprinkle icing sugar all over.