The rise in temperatures is in the air, even though it is still not time to go out with your summer clothes on. But our body is already asking for a detox diet and needs us to eat healthier and lighter plates. Except for the croquettes, of course, because you can never say no to croquettes, even though you are in August with 40ºC. We bring you a variety of plates for this menu, plenty of flavours and with chocolate to top it off. Welcome to our vegan Batch Cooking for May.
Ingredients
Bean croquettes
1 cup of cooked beans
A pinch of salt
A pinch of powdered garlic
3 Tablespoons of flour
1/3 Cup of breadcrumbs
A pinch of paprika
Sausages sandwiches
Veggie sausages
Bread
1 Clove of garlic
3 Tablespoons of white wine
Quinoa salad
1/2 Cup of quinoa
A bunch of green beans
Red pepper
Green pepper
1 Clove of garlic
A pinch of salt
A pinch of paprika
2 Artichokes
½ Onion
Chicken (not) strips
¼ Cup of tomato sauce
Pasta
1 Cup of pasta
Your favourite ingredients, from tomato to pesto
Chocolate coulant
200g Chocolate
150g Margarine
150g Sugar
8 Tablespoons of egg replacer
100g Flour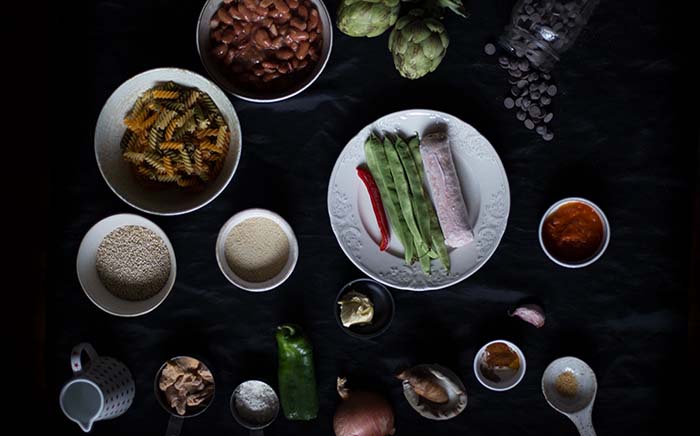 Bean croquettes
Put all the ingredients except breadcrumbs in a bowl and mash with a fork until you have a paste. Shape your croquettes by making small and long balls and coat them with breadcrumbs.
Fry in oil until golden brown.
Sausages sandwiches
Stir fry the sausages with a clove of garlic until golden brown. Add some white wine.
Quinoa salad
Stir fry all the veggies with onion and garlic until brown. Add salt and paprika and the chicken (not). Let it cook for a couple more minutes and add the tomato sauce. Cook the quinoa in a pot with water and mix with the veggies.
Pasta
Cook the pasta until al dente.
Chocolate coolant
In a bowl, mix the not-egg with sugar. Melt the chocolate at Bain-Marie using the microwave together with the margarine and combine with the bowl ingredients. Add flour and spread the dough into 6 different moulds.
Bake for 8 minutes at 200 °C.