Preparing food for the whole week in one day is possible, that is the philosophy of Batch Cooking or Meal Prep. That's why every week we'll teach you how to cook healthy homemade recipes that you can keep in the fridge or freezer. Tuppers are a lifesaver for those of you who don't have time to cook during the week or want to save a little time and money by eating healthy.
Enjoy this Sunday afternoon in the kitchen because it will probably be the only day of the week that you do. Wrap up in your apron and let's go for that weekly menu.
Ingredients
Meatballs (12 units)
2 cups of cooked red beans 

1/2 onion, chopped

1 pinch of salt and black pepper

1/2 teaspoon garlic powder

1/2 teaspoon of hot paprika

2 tablespoons of flour

2 tablespoons of bread crumbs

1 + 1/3 cup of raw tomato sauce

1 garlic clove, minced

1/2 cup of water

A piece of green pepper, well chopped

1/3 cup of white wine
Falafel (15-20 units)
1 + 1/2 cups of raw chickpeas

2 tablespoons chickpea flour or regular

2 tablespoons of bread crumbs

1 garlic clove, minced

1/2 onion, chopped

1 tablespoon of oil

salt to taste
Pasta/Quinoa
1 cup of quinoa

Cherry tomatoes

250 grams of wholemeal spaghetti

2 cups of pea paste (or any gluten-free paste)

2 cups of Heura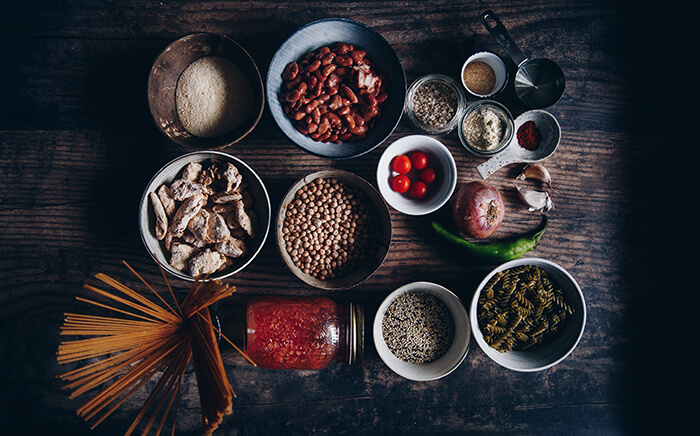 Meatballs
In a bowl, add the cooked beans (pass them through a sieve first to remove excess liquid) and with the help of a fork knead them into a paste (not too shredded).
Add salt and black pepper to taste, garlic powder, hot paprika and mix well.
Finally add flour and breadcrumbs and mix again until well integrated. 
With the help of your hands make little balls of the size you want by squeezing them a little. Add more flour if necessary and you see that it is difficult to keep the shape of the meatball.
Once you have all the meatballs made, roll them in a little flour.
Put the meatballs in a pan with a little oil and wait for them to brown, moving the pan so that they cook on all sides. When they are golden brown, remove them from the heat.
In the same pan, add a little more oil if necessary and add the chopped green pepper and let it cook for a couple of minutes over medium heat. Add the onion and chopped garlic and wait until it browns.
When the onion is golden brown add the tomato sauce, a little water and white wine and cook over high heat until bubbles start to appear, then lower the heat, cover (optional) and let cook for about 10 minutes, stirring often.
You can add the meatballs at the end when the sauce is ready or you can add them while the sauce is cooking, I always add them while it's cooking.
Quinoa
Add the quinoa to a fine sieve and clean it with water (or in a pot with some water and then drain it).
In a pot add the clean quinoa with 1 cup of water and let it cook for about ten minutes (if you don't want to clean the quinoa and don't want to add 1 cup of water for 1 cup of quinoa, you can just add quinoa and fill the pot with water, and then strain it).
Pasta
In the same pot you cooked the quinoa, cook the whole wheat spaghetti for about 12-15 minutes.
And in that same pot, cook the pea paste for about 7-10 minutes.
Cut the cherries and put them on top of the pea paste.
Falafels
Before preparing the falafels, soak the raw chickpeas the night before. What I always do, since I never remember to leave them soaking the night before, about half an hour before, I put the chickpeas in boiling water and stir until they soften, so I don't have to wait so many hours.
Once the chickpeas are soft (or almost soft), put them in a blender (I use thermomix), with the half onion, the garlic clove, oil and salt.
Grind until a paste is formed and add the spoonfuls of chickpea flour (or normal flour) and the spoonfuls of breadcrumbs.
Beat again until everything is well integrated and with your hands make little balls by crushing them a little so that they are shaped like falafel. If you see that they fall apart, try putting a little more oil and if you see that they are very liquid, add more flour.
In a pan with plenty of oil, cook them for a few minutes until they are golden on both sides.
Heura
To cook heura, all you have to do is take it out of the freezer and fry it with a little oil until it browns.